– Article & Photo Courtesy: J Varadarajan, The Hindu
The Hutheesing Mandir, Ahmedabad, is one of the finest examples of Jain architecture.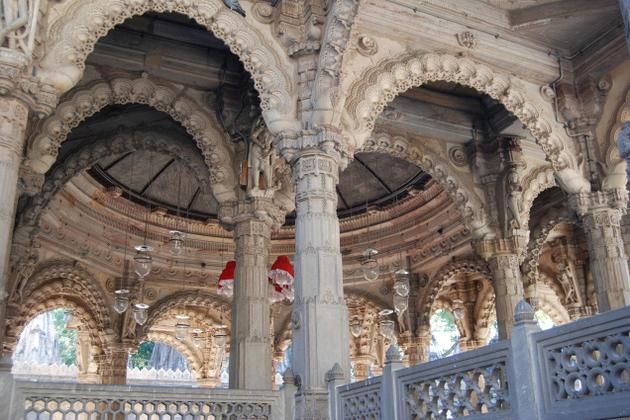 Hutheesing Mandir, Ahmedabad, has everything that a 21 century city can offer: modern infrastructure, connectivity and numerous cultural treasures as memoirs of the past. The Hutheesing Jain temple was built in 1848 A.D., at an estimated cost of Rs. 10 lakh, by a rich merchant Sheth Hutheesing as a dedication to the 15th Jain Tirthankar, Sri Dharmanatha.
The legend goes that Sheth Hutheesing's second wife got this temple started when Sheth had fallen seriously ill. She wanted to have a portion of the temple built before Sheth's demise and thus started with the base temple, which has two sub-shrines. The other part of the temple along with the sculptures and rock carvings were done later. Sheth died even before the temple was completed but it was still named after him. This Jain temple, with Jina Dharmanatha as the principal deity, was realised in two years.
Premchand Salat, the chief architect of the temple, has adroitly mixed the modern and the old elements to create a picture of divine unison. The temple stands as a symbol of creativity where stone has been morphed into wood and the temple into haveli. The entrance of the temple porch mirrors the gateway architecture of havelis of that era. Intricate carved balustrades, over-arching balconies, chabutras, jaalis for women to have a quick look and finely carved walls render it a haveli look. One cannot miss the creator's eye for design and devotion as one walks through the extended entrance pavilion with ascending steps, a gateway and the first floor mass.
The gateway faces the idol room, but the passage is finely punctuated with numerous Tirthankara idols on each column.
The spatial sequence created by small shrines and temples on the two sides of the octagonal frame of the main Guda Mandap, with almost twice the height of the side temples, seems like offering a setting for a divine conversation with the Almighty. The sancta sanctorum is placed in an attached cell with five deities. The temple even has the basement with two sub-shrines and other deities.
Just outside the main building of the temple, a six-storey tall victory tower or the 'Manastambha' – pillar (as it is called) of respect, enshrining the footsteps and idol of Lord Mahavir, was built to commemorate the two-and-a-half millennium of his birth anniversary. The tower stands as a visual reference to the temple. The carvings on the walls and the intricate design call for a greater and deeper attention.
Apart from the rich design and devotional appeal, the temple is also known for its rain harvesting structure which is practised even today.