The Jain Ruins at Kumarabeedu a small village situated a distance of 13 Kms from Mysore in Karnataka reminds us of the glorious past.
– Article by Nitin H P
(Mapping by – Brahmananda Chipre)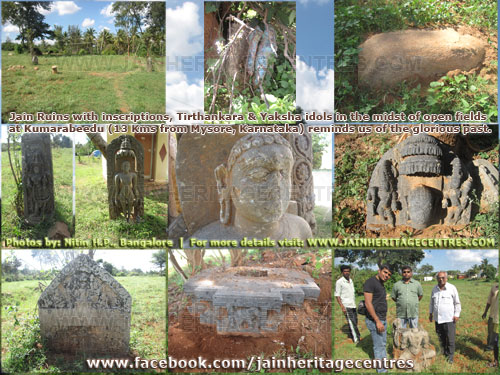 It was 'Vijayadashami' (October 14, 2013) the biggest day of the year for all Mysoreans and all eyes of the people from across the state of Karnataka were on this historic city as people were eagerly waiting to witness the live telecast of Mysore Dasara procession. For me who has grown up over the years witnessing the Mysore Dasara it was just like any other day and was not sure on my plan for the day until almost 9.00 am. When I happen to discuss about the plans for the day with my dad (Dr.H.A.Parshwanath), our guests and our friends the Chipre's (Priyanaka & Brahmanand Chipre) I proposed to have a quick trip for a couple of hours to Gommatagiri, K.Hemmanahalli and Kumarabeedu, they all agreed. Since we (my self and my father) had already visited Gommatagiri & K.Hemmanahalli we were pretty sure of coming back home by around the lunch time as the total journey was not more than around 60 to 70 Kms. After completing our journey through the other two sites we set our journey towards Kumarabeedu which is just around 13 Kms from Mysore. It was already around 1.00 pm and we hoped to finish this site in the next 30 mins and return back home. I had read about a couple of inscriptions related to Jainism at Kumarabeedu and took our guys to this village with a hope that we might be able to get some small inscriptions or some proof of Jain heritage here. On reaching the village we stopped in front of a small provision store and started enquiring about the Jain ruins at Kumrabeedu. None of them were really aware of any Jain remains or ruins there. They just confirmed that there lies a few remains of some temple. However, we insisted them to show us the remains. Then we drove through a pretty rough muddy road for around half a Km along with Kalasomanayaka (one of the villagers) and got down from our vehicle.
An open Field with Jain Ruins – Kalasomanayaka pointed to an open field of around half an acre at a distance of around 200 meters and said it was the place that he mentioned earlier which had some remains of a temple. Looking at it from a distance we felt it might have some small stone ruins.
Chowri Bearer – But on approaching further we found a cut stone carving of around 2 feet of the entrance of a temple with an attractively carved Chowri bearer. This gave us a hint that this might have been a site of some temple. But still we were not very sure if it was a Jain temple or not.
Jain inscription – However, on moving further into the field we found a Jain inscription with 3/4th of its length buried inside the ground. The carving of a Tirthankara image in padmasana gave us an hint that these are definitely the remains of a Jain temple.
Ruined Yaksha – In another corner of the field was found a ruined idol of a Yaksha with its head and hands chopped off.
Pedestal of Ajithanath Tirthankar – At the end of this piece of land we were able to find another ruin which was the pedestal used to install an idol. One interesting aspect of this pedestal was the carving of a standing elephant in its centre. This further helped us conclude that this is the pedestal that was used to install a Tirthankar idol and more particularly Lord Ajithanath, as elephant is the symbol of Lord Ajithanath.
This is not the end, there is even more…..After exploring these structures we thought – this is it and we are through with our field work. We were happy that we were able to explore a Jain inscription and the pedestal of a Jain idol. But, it was not the end, there was something more. Kalasomanayaka took us to one of the near by farm houses which was at a distance of another 100 meters.
Tirthankara Idol With head, hands and legs Chopped Off – At the entrance of the bushy fencing leading to this farm house was found a ruined Tirthankara idol painted in blue coloured paint with its head, hands and legs chopped. We were aghast to see this sight of a Tirthankar idol and were taken aback. On enquiring about the idol we were told that the head along with an arched enclosure of this idol lies at a different place. This was further disturbing. On carefully examining we might conclude that this idol might have been Ajithanath that is missing from the pedestal mentioned earlier in the article.
Ruined Parshwanath Idol – On getting inside the fencing and walking for further 50 meters we were able to see an idol of Lord Parshwanath which is around 3 feet high flanked by Dharanendra Yaksha and Padmavati Yakshi, surrounded by attractive carvings and seven hoods of a snake on its head. The idol is in proper shape without any of its parts chopped off. However, the disappointing fact is that the face of the idol is ruined completely. As there isn't any Jain population in the village they are not aware as to which idol this is. They call this idol as Shravanappa.
Small Ruins – Adjacent to the Parshwanath idol we were able to find a stone piece with attractively carved hands and a ruined figure of an animal with a man sitting on this. The attractively carved hands might be part of the Yaksha idol found earlier.
Inscription on a Rock Bed – On returning back to the fields, one of the ladies there took us to a small inscription on a rock bed. Again this was a Jain inscription.
Tirthanakara Head at a Different Place – Based on the information given by Kalasomanayaka we proceeded to a near by place to find the head portion with an arched enclosure. This is the chopped portion of Tirthankara idol with attractively carved chowri bearers that was found earlier.
When & How were the ruins & idols found ? These ruins & idols were found over a period of around 20 to 25 years while there were tilling the land. The Tirthankara idol with the head, hands and legs chopped off was found while tilling the lands around 1993-94. The other idol of Lord Parshwanath was recovered around 2003-04. Owing to the fact that many ruins & idols have been recovered continuously over a period of time none of the workers are willing to work in this piece of land and it has been left uncultivated since the past few years.
A major Jain Heritage Centre with glorious past  – The presence of so many Jain ruins and inscriptions indicate that Kumarabeedu might have been a major Jain Heritage Centre and reminds us of the glorious past. The inscriptions found in the open fields further substantiate this point. Jainism might have deteriorated over a period of time due to the onslaught of other religions. One interesting aspect of the site at Kumarabeedu is that the area around which the Jain ruins are found is at a slightly elevated place and it could be possible that many other ruins might have been buried inside the ground.
Adjacent to the open field is also found an ancient temple dedicated to the Hindu deity Eshawara.
Inscriptions at Kumarabeedu – Below is given a summary of the two inscriptions found in the open fields at Kumarabeedu (Epigraphia Carnatica, volume 5, 1976, Pages 207 & 208).
Inscription 1 – Kannada Inscription
Date of Inscription – Saka 1044, Plava, Margashira Shuklapaksha 5, Monday. This corresponds to 1121 A.D., November 16. But the weekday was Wednesday and the Saka year current.
Location of the Inscription – In the open fields.
Summary of the Inscription – This inscription refers to the rule over Gangavadi 96000, with its capital at Talakadu by Mahamandaleswara Kulotunga Chola Bhujabala Viraganga Hoysaladeva. This king is same as Vishnuvardhana. This mentions to about the construction of a Basadi at Hadaravagilabidu (this could have been the other name of Kumarabeedu) in memory of his younger brother (?) Sovana-dandanayaka. Further, it mentions about the grant of the village Chandavanahalli in Maise-naad (it is most likely that Mysore region is referred to as Maise-naad here) and other lands and garden, besides two oil-mills by Mahapradhana Dandananayaka Gangapayya. The donor may be identified with Gangaraja.
Inscription 2 – Kannada Inscription 
Date of Inscription – Date not mentioned explicitly. A reference to Hoysala king helps us conclude that this might be of 11th or 12th century.
Location of the Inscription – A memorial stone in the open field.
Summary of the Inscription – This is an incomplete inscription that stops abruptly after giving the usual titles of the Hoysala King. The characters and titles indicate that the king mentioned herein may be Vishnuvardhana.
By the time we returned home it was close to 5.00 pm. Though exhausted we were all happy that we were able to explore some good Jain heritage site and unearth something that was not much known to the external world.
If these ruins are not properly restored then a day might come when these will disappear from the current site and there by loosing our ancient Jain heritage.
(The WWW.JAINHERITAGECENTRES.COM team members that were involved in the field visit to this temple on October 14, 2013 –  Dr H.A.Parshwanath, Brahmanand Chipre, Priyanka Chipre, Nitin H P)
Coordinates – 12°17'6″N   76°32'37″E
 Short URL to the map – http://goo.gl/maps/FKT6f