He spent five years of his life researching and writing the award-winning documentary, Santhara. He talks about truths that he discovered in the process.
– Article By Nadini Kumar, Bangalore Mirror
Source: Odditycentral.com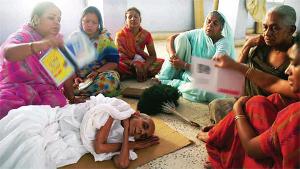 Shekar Hattangadi's 25-minute documentary Santhara, on age-old practice of fasting unto death by members of the Jain community, won the award for the Best Script recently at the 4th Bangalore Short Films Festivals. Hattangadi (60) spent five years working on the film. He became interested in the subject during a classroom discussion at a law college in Mumbai where he was a guest faculty. (Interestingly, Hattangadi obtained a law degree, and three gold medals to boot, at age 50.) He came across a news article about a PIL Nikhil Soni v Union of India filed about the practice of Santhara in Churu district in Rajasthan. Curious about the case he went to Churu and talked to the people about "the baffling practice". Santhara or Sallekhana is an ancient Jain practice undertaking voluntary death. He shares with Bangalore Mirror some of the unusual facts about the age-old practice.
The desired fruit
I believe that the Jain community takes their religion far too seriously. Some orthodox Jains believe that even a bite into a fruit would lead to disturbing the ecology. The ultimate expression of non-violence for them is of course the practice of Santhara, which is to not drink or eat. During the course of my research I was surprised to learn that if you offer an orthodox Jain a mango or a strawberry, he/she would choose a mango because it has only one seed which means they would be denying only one life to spring again through that seed which gets wasted.
Is it to rid economic burden?
"During my research, I met Nikhil Soni, a petitioner and lawyer at Jaipur, who told me that the ritual was nothing short of murder devised to rid the family of the economic burden of taking care of its aged and unproductive members. In Churu district, influential industrialists have ancestral Havelis where people from their extended family would live. Soni recalled the typical modus operandi exemplified in the Bimla Devi case. Diagnosed with terminal cancer, the elderly woman was too weak and depressed to protest as her relatives went about publicly announcing "her decision" to undertake Santhara.
Bhajans to drown the cries
I was baffled beyond reason to learn that family members of the one undergoing Santhara would call the Bhajan Mandali members who would sing loudly accompanied by high decibel percussion to drown the cries of the dying person. This apparently happened in Bimla Devi's case when she began screaming in a last-ditch effort to get food and water.
Pride of death
Santhara in a way gave the family great recognition. The family members took great pride in it. For them it was a celebration. The son of Keila Devi Hirawat, a widow who chose to starve to death near Jaipur, told me how it was not "fasting to die, but a festival to face death". He believed that his mother was cleansing her soul. Earlier, nobody in the village would pay any attention to Hirawat's family. But after her Santhara, people would pause in front of her house to offer prayers. All this made the family very happy. Her daughter-in-law said: "Everyone in the family is very happy. After all, she has brought name and fame to our family."
THE FILM
Santhara, a challenge to Indian secularism The documentary explores the dimensions of the law-religion conflict by focusing on the spiritual, ethical, medico-legal and sociological aspects of the controversial Jain ritual of Santhara, in which a person gives up food and drink after taking a vow of abstinence, resulting in death by starvation. The film looks at how religion, law and constitutional secularism intersect in the ongoing debate over Santhara.
THE RITUAL
When a Jain feels that he/she has entered a stage in life, with nothing meaningful left to complete, he/she seeks permission from friends, family and guru to take up the practice of Santhara.

Once permission is given, he/she gradually gives up food and liquids.

60-year-old monk Sadhvi Charan stayed alive for 87 days, the longest, after taking the oath of Santhara.

60% of Jains taking up Santhara are women.

The practice is more popular with women, ill or dying. But healthy people — both monks and ordinary people — participate in the ritual.