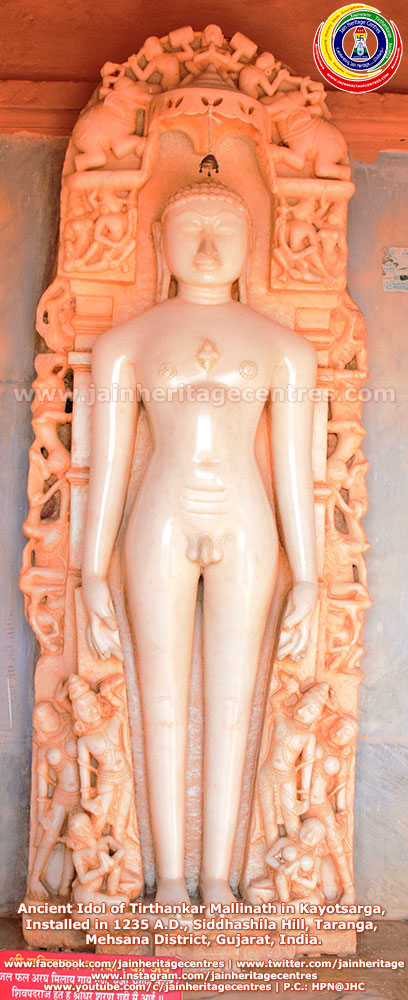 History – Taranga is a Jaina Siddhakshetra. It is believed that 3.5 crores (35 Million) Jain munis including Vardatta, Sagardatta, and others attained nirvana/moksha from this place. The two hillocks named Kotishila and Sidhhashila have the idols of Tirthankar Neminath and Mallinath of Vikram 1292 (1235 AD). There are 18 Digambar Jain temples around the foot of the hill along with a lofty Manastambha.
The list of Digambar Jain temples at Taranga are as below:
Sri Shambavanath Temple
Nandishwara Temple
Munisuvratanath Temple
Chandraprabha Mandir (2 Temples)
Parshwanath Chaturmukha Temple
Neminath Temple
Bahubali Mandir (2 temples)
Bahubali Chaturmukha Temple
Mallinath Temple
Bahubali Idol
Vasupujya Mandir
Padmaprabha Temple
Adinath Mandir (3 temples)
Ajithanath Temple (2 temples)
Mahavir Temple
The idol of Tirthankar Mallinath on the Hill- On the highest elevation of the three-peaked hill there stands a so-called Tonk. Built by Digambar Jains it houses a marble statue of the nineteenth Tirthankar Mallinath. A view from the hill opens a beautiful bird's-eye view of the temples below.
Swethambar Temple – At some time in the twelfth century, Kumarpal, the Solanki king residing at Patan, who was himself a Swetambara Jaina, selected this site for construction of an exceptionally beautiful temple in honor of Ajitnath. Under the Guidance of Kalikalasarvajna Acharyashri Hemchandracharya, this temple was built in the year 1200 of the Vikram era. Of the 108 names of Siddhachal, one name is 'Tarangir'. For this reason, Taranga is regarded as a peak of Siddhachal. The 27500 cms. high wooden summit of this temple is beautifully carved. It has seven domes. On the right-hand side of the temple, there are foot-idols of Bhagawan Ajitanatha and of the 20 wondering Bhagawan and on the left-hand side, there is a temple of Gaumukhji, the Samavasaran (the open lecture-hall), and the Jambudvip painting. On the outer platform of the main temple, there are idols of Padmavatidevi and Kumarpal Maharaja.
Some years earlier he had a temple built to Adinath on Mount Shetrunjay near Palitana. Built of light sandstone, the Taranga temple measures 45 meters in length by 30.4 meters in width and reaches up to a majestic height of 30.6 meters. In its plan and design, it resembles the Neminatha temple on Mount Girinar and the Adinath temple on Shetrunjaya. During the last major renovation works the roofs and the stone carvings on the outer walls were cleared of thick layers of white paint.
Main Deity – Nearly 9 feet 2 inches high, white-colored idol of Bhagawan Ajitanatha.
Accommodation Facilities – Good accommodation facilities with Jain food are available in the Digambar Jain Dharamshala found along the foot of the hills.
Location – Taeanga is located at a distance of 73 Kms from Mehsana, 52 Kms from Idar, 38 Kms from Vadali and 130 Kms from Ahmedabad.