Arpakkam houses a Digambar Jain temple dedicated to Tirthankar Adinath.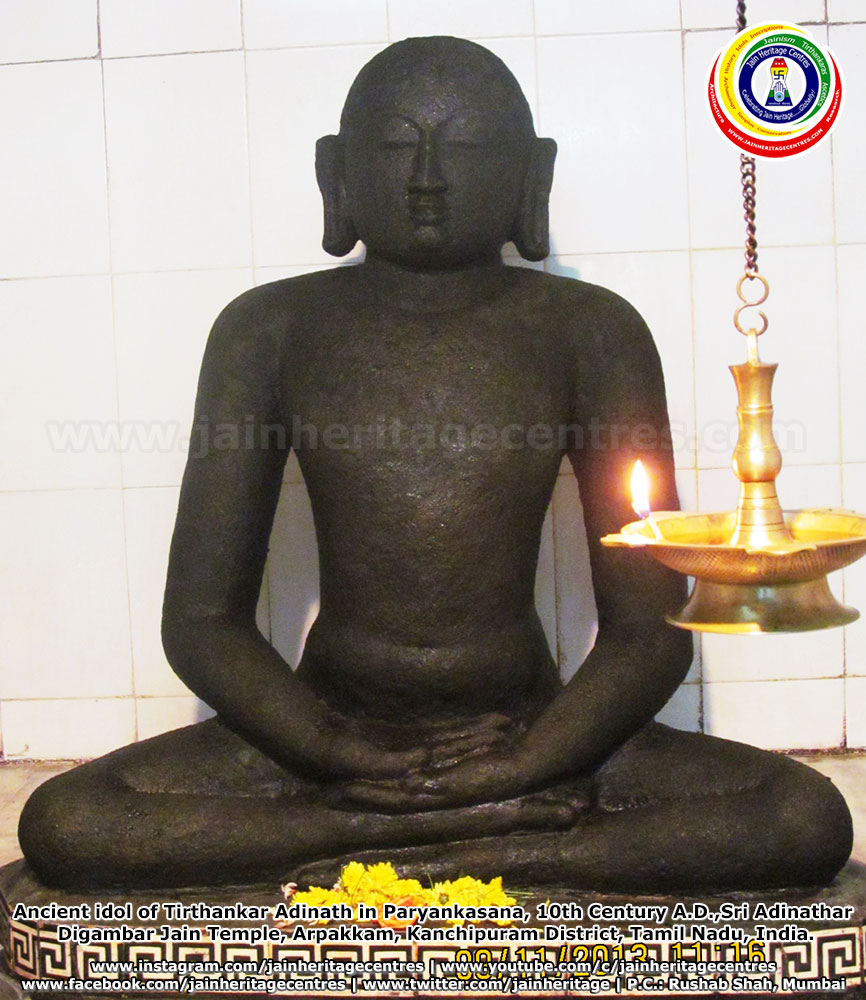 Main Deity – About 4 feet high black coloured stone idol of Tirthankar Adinath in Paryankasana.
History – Inscriptional references indicate that this temple was built in the 10th century A.D. and had received some grants or Pallisantham through land & gold coins from the Kings.
Temple's Structure – This is an east-facing temple with a Rajagopura or Rajagopuram. The Rajagopura has 3 tiers with the images of Tirthankar in sitting posture, Yaksha, Yakshi, Dwara Palakas, and other structures. Soon after the Rajagopura are seen the Dwajasthambam, Palipedam (Alter), and Manasthamba with Chaturmukha Tirthankar idols.
The main temple consists of a sanctum sanctorum, Ardha mantapa/mandapam, and a mukha mantapa. Above the Mukha Mantapa is seen the image of a Tirthankar flanked by Chowri bearers (samaratharis/ chowri bearers). Stone idols of 24 Tirthankaras, other metal idols of Parshwanath Tirthankar, Nandishwara, Navadevata, Ashta Mangala are seen installed on a platform in the Ardha mantapa. An idol of Yakshi Kushmandidini or Dharmadevi facing south and an idol of Brahmadeva/ Brahmadevar is also seen in the Ardha Mantapa. An idol of Tirthankar Munisuvrathar/Munisuvrata donated by Mr. M T Rajendran is also installed in Ardha Mantapa. The sanctum sanctorum houses about 4 feet high black coloured stone idol of Tirthankar Adinath in paryankasana as the main deity.
Involvement of Jain Families – The local Tamil Jain families around the village and in the district have a great followership to this temple. They perform rituals or ceremonies such as ear piercing, head tonsuring, and others for Kids. Other Jain festivals like Jinarathri, Mahavir Janma Kalyana/Jayanthi, Deepavali are celebrated in the temple.
How To Reach – Arpakkam is a village located at a distance of 15 km from Kanchipuram, Tamil Nadu, India. The temple is located at a distance of 1.5 km from the Arpakkam bus stop.