Ponna was a Kannada poet who lived in the 10th century A.D. Scholars have attribute his period to be 950 A.D.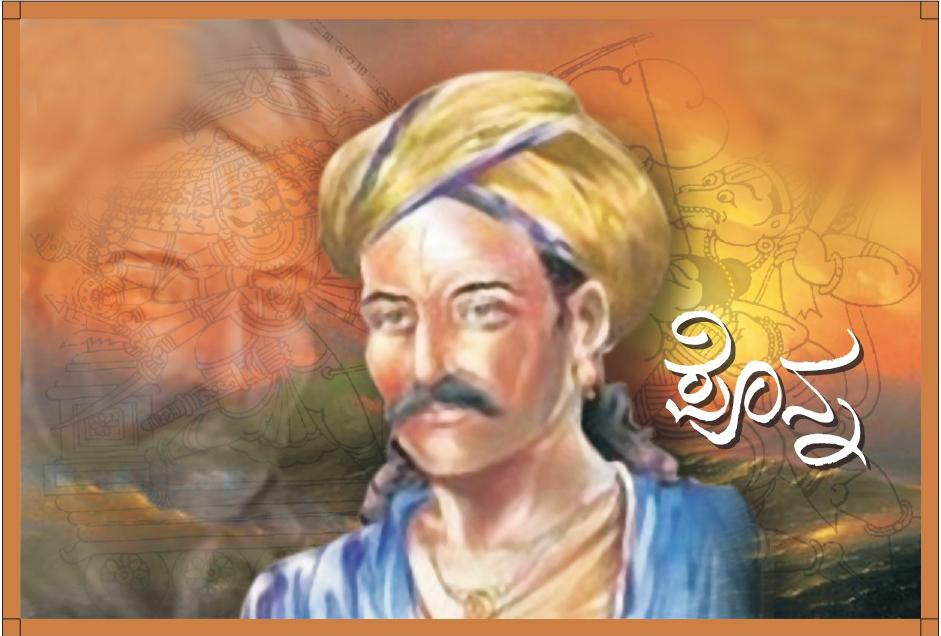 Ponna was a noted Kannada poet in the court of Rashtrakuta king Krishna III (939–968 A.D.). Ponna was conferred with the title "Kavichakravarti – Emperor among poets" for his hold over Kannada language and his domination among the Kananda literary circles. HE was also conferred the title "Ubhayakavi Chakravarti – imperial poet of two languages" for his command over Sanskrit as well.
Ponna is considered as one among the "Ratnatraya – three gems of Kannada literature", Adikavi Pampa and Ranna being the other two.
Ponna belonged to Vengi Vishaya in Kammanadu, Punganur, Andhra Pradesh, but later migrated to Manyakheta (in modern Kalaburagi district, Karnataka), the Rashtrakuta capital.
Ponna's Works
Available works – Shanthipurana, Jinaksharamale
Unavailable Works – Bhuvanaikya Ramabhyudaya, Gathapratyagatha, Alankara, Adipuranamu and Viratamu.
Jinaksharamale
This is a work with 39 Kanda Padyas. He has written Jinastavanas starting from letter "Aa" to "La" of Kannada Varmalae. He has started each Kanda Padya with the beginning letter of a varnamale and has ended it with the varnamale with which the next stanza has to begin with. We can see Ponna's religious dedication and devotion in this work.
Shanthipurana
This is a biographical account of Shantinatha the sixteenth teerthankara. This is a Champu work containing twelve chapters. Surprisingly, the first nine chapters are reserved for a description of the past eleven lives of the teerthankara and only the last three delineate the life of the protagonist. The different births of Shantinath Tirthankar as Srishena, Bhugabhumija, Srideva, Amitateja, Manichula, Aparajita, Achyutendra, Vajrayudha, Ahamindra, Megharatha, Mahendra and finally Shantinath. Ponna was motivated by a desire to write an epic fulfilling all the stipulations laid down for a traditional epic as also the demands of Jaina puranas. Thus the eight necessary features of a Jaina purana are to be found here as also Jaina theology and a narration of the previous lives of the protagonist. (Bhavavali) The eighteen descriptions and nine rasas are given their due place. The fact that his patron Danachintamani Attimabbe got one thousand copies of this epic made and distributed it among interested readers.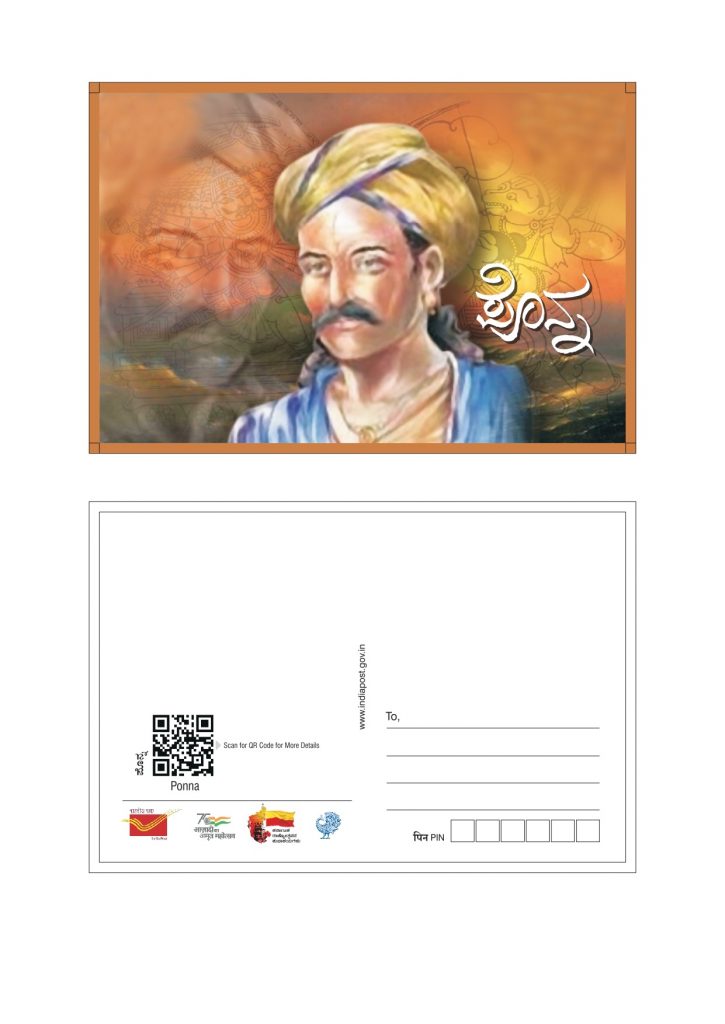 Attimabbe got one thousand copies of this epic made and distributed it among interested readers.
Bhuvanaika Ramabhyudaya – was possibly the first work that established the tradition of Jaina Ramayanas in Kannada. It is said to be having 14 chapter and is the story of Ramayana. Some poems selected from this work are quoted in later works here and there. Scholars have opined that this work could have been a combination of mythology and contemporary history.
Gatapratyagatha – This work might have been written in Sanskrit.
Adipuranamu and Viratamu – These are considered as Ponna's Telugu works.
This picture postcard on Jain Kannada Poet Ponna has been released by the Mangalore Postal Division, Department of Post, Government of India, on the occasion of "Kannada Rajyotsava – 2022" under the "Jina Ratna Bhushanaru" series. The picture postcard has been sponsored by Hombuja Jain Math. The entire project has been led by Mahavir Kundur, Hubli.