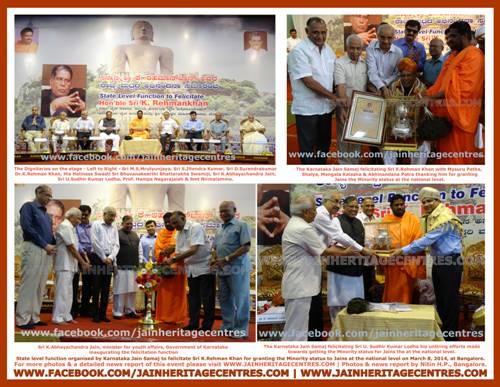 Bangalore (Karnataka), March 14, 2014: The Jains of Karnataka felicitated Sri K.Rehman Khan and thanked the Government of India led for granting minority status to Jains at national level. A function was organised in this connected at Bangalore on Saturday March 8, 2014 at Chamaraju Kalyana Mantapa in the presence of His Holiness Swasti Sri Bhuvanakeerthi Bhattarakha Swamiji of Kanakagiri Jain Mutt. The function well attended with around 500 people was represented by members of all the Jain organisations from across Karnataka.
The event started with a welcome speech by Sri S.Jitendra Kumar, president of Karnataka Jains Association followed by its inauguration by Sri K.Abhayachandra Jain, minister for youth affairs, Government of Karnataka.
Noted Jain scholar Sri Hampa Nagarajaiah delivered the congratulatory note. Sri Hampana said that it is indeed a joyous occasion to celebrate this fete. However, this is just the beginning and not the end, a lot needs to be done for the betterment of the lives of Jains spread all over country particularly the ones along the rural areas.
Speaking on the occasion Sri Rehman Khan was all appreciation to the Jain community for projecting a unified voice in their approach towards getting this status. Further, he felt that Jainism being an independent religion has a very long history and this minority status will further help the community to preserve its heritage and uphold its distinctness.
Sri U. Sudhir Kumar Lodha, state minorities commission member, Government of Tamil Nadu, was the guest of honour. He shared his experiences in the path towards achieving this fete and said that this was possible because of a unified voice. He further called upon the people to have an approach of "Learn – Earn & Return" which if adopted in each on of us will he us progress rapidly.
Sri D.Surendra Kumar, executive national president of Bharatiya Jain Milan presided over the event. In his address he recalled his relationship with Sri Rehman Khan since 1992-93 while he was the member of Karnataka state minorities commission and Mr,Khan its chairman. He further recalled that it was during the tenure of Mr.Khan that Jains were declared as minorities at the state level in Karnataka then and now, again during the tenure of Mr.Khan Jains have been declared as minorites at the national level. Further, he appreciated the efforts of Sri Sudhir Lodha in this efforts.
Sri K.Rehman Khan was honoured by the Karnataka Jain Samaj followed by felicitations from members of different Jain organisations from all over Karnataka.
The event was jointly organised by Karnataka Jain Association, Bharatiya Jain Milan & Chakreshwari Mahila Samaj. – News Report & Phtotos by Nitin H.P, Bangalore;, Jain Heritage Centres
More photos of this event