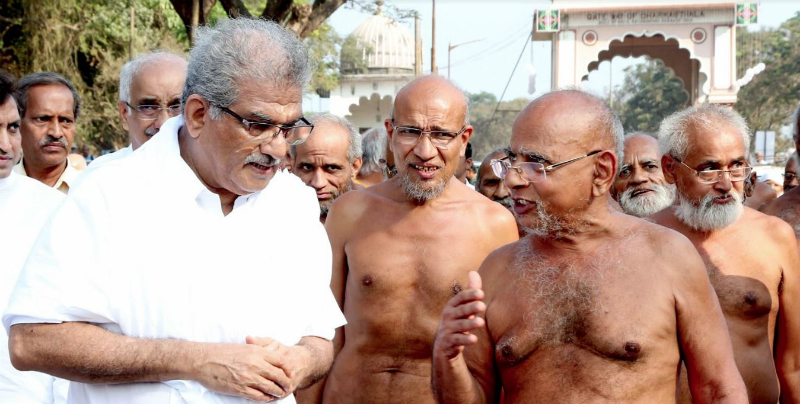 Dharmasthala (Karnataka), 31st January 2019: Acharya 108 Sri VardhamanaSagarji Muni and his group of disciples arrived at Sri Kshetra Dharmasthala – ahead of Mahamastakabhisheka at Dharmasthala in Karnataka's Dakshina Kannada district on February 9 – to a grand reception on Thursday.
D Veerendra Heggade, dharmadhikari and other members of Mahamastakabhisheka organising committee, received them at the main entrance of the temple and took them in a grand procession to Chandranath basadi where they will be housed.
In his benedictions, the acharya said dharma is for betterment of all beings and gives peace and tranquillity. Implementing dharma brings about betterment of the soul, the acharya, who had darshan on Sri Chandranath Swami and witnessed pooja offered to the deity, said there is general equality for people irrespective of their
religion at the kshetra. "This (Dharmasthala) is the land of dharma and treats everyone alike," the acharya averred.
Religious rituals of every religion are different. Non-violence (ahimsa) is the best dharma, and all should give importance to this tenet of life. Bhagwan Mahavir Swami gave amicable solutions to various problems with his outlook to life. "Veerendra Heggade installed idol of Lord Bahubali in reverence to wishes of his mother Rathnamma and it is our good fortune to witness Mahamastakabhisheka as per rituals set down every 12-years," he said.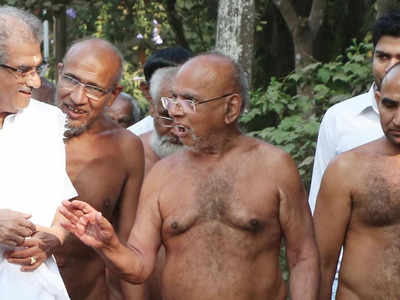 Heggade who received the acharya and his group said the Kshetra is blessed with the arrival of the seer. The acharya had led and guided preparations for the past two Mastakabhisheka held at the Kshetra, he said while requesting the seer to do so for the third anointment event of the monolith. The blessings and guidance of the acharya, known for his patience, control and tolerance will certainly ensure the success of the anointment event, he noted. – News & Photos Courtesy: Times News Network