'In all probability, work will begin in October and completed by March'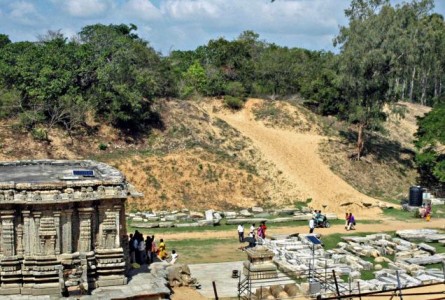 Mysore (Karnataka), July 23, 2013: The ancient site of Talakad continues to beckon archaeologists and explorers hoping to uncover the world buried in the sands of time. And now, the Department of Archaeology, Museums and Heritage will excavate a Jain basadi reckoned to have been built in the 8th century. R. Gopal, Director (Archaeology), told The Hindu that excavations conducted in the past had revealed a portion of the Jain basadi, but its importance and significance remained unclear.
"It is only after it is completely excavated that we can ascertain its importance," he said.
Though a State-protected site, the department has to secure permission from the Archaeological Survey of India (ASI). Dr. Gopal has applied for the permission. He said that in all probability, the excavation would commence in October and be completed by March.
While the architectural merits of the structure will be an area of separate study, what is of critical importance is the data that the excavation may throw up that can help weave a new strand of historical narration to Talakad by future generation of scholars and historians.
"The importance of the excavation, which may cost around Rs. 3 lakh, lies in the reconstruction of the history of the region that spans more than 1,500 years," said Dr. Gopal.
One of the oldest sites
Talakad is one of the oldest historical sites in the State and was the capital of the Gangas in the 6th century. Located on the banks of the Cauvery, it was under the Cholas for many years and was called Rajarajapura after king Raja Raja Chola. The Chola kings constructed many temples there. Subsequently, it was captured by Hoysala ruler Vishnuvardhana by subjugating the Cholas.
The Keerthi Narayana temple, which is now in ruins, and is being restored by the Archaeology Department slab by slab, was constructed to mark the Hoysala king's victory over the Cholas in 1,116 CE.
The construction of a dam by Madhavamantri across the Cauvery in the 16th century is reckoned to have led to accumulation of large mounds of sands in the vicinity of Talakad, which over the centuries, got buried under it.
This will be the third major excavation to be taken up at the site since the 1990s when systematic efforts were made to rediscover the buried town. Excavations unearthed portions of temples, including the Keerthinarayana temple, Pataleshwara, Maruleshwara and Vaidyeshwara. In recent years, the department has taken recourse to remote sensing and satellite imagery to explain the sand dunes. It has been attributed to the shifting course of the Cauvery in the last 500 years. – News Courtesy: The Hindu