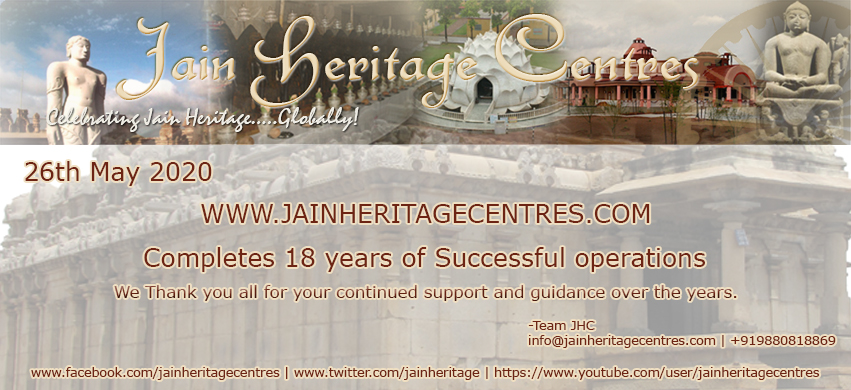 Jai Jinendra!
Way back in 2002 (26th May 2002) what started as an information website on Jain Heritage, history, temples, basadis, News & other Jainism related information out of our interest and love towards Jainism, its principles, philosophy, art & architecture has now transformed into one of the much-sought after portals on Jainism.
When we look back at our journey and dig through the memory lane over the years, we come across numerous projects. Irrespective of their size and magnitude the main intent of all our initiatives were focused on the propagation and conservation of Jain history, heritage, temples, Basadis, and others. I feel looking back to our footprints and self-review will help us move ahead effectively in our journey. Here is a summary of the different projects we have worked upon over the years.
Movements – There were instances wherein questions were raised against Jain practices which eventually might have led to questioning the very existence of the religion. We have roused to the occasion on such instances and have contributed our bit as a team. Ex – Attack on Jain monks in Tamil Nadu (2004), Attack on a Jain Monk at Girnar (2013), We played a pivotal role in getting the stay order from the Supreme Court of India in connection with the practice of Sallekhana.
Firsts of Jainism – Being run on a digital medium a few of our initiatives led to achieving a few milestones digitally which turned out to be the firsts of Jainism.
A few of the projects have been undertaken as per the situational needs either independently or in coordination with different groups or organizations on requests from organizations, religious leaders, Munis & Bhattarakhas.
Conservation of Jain Heritage Centres – The conversation of Jain Heritage Centres has been the main motto of our website. We have been instrumental in bringing to light many Jain sites. This has led to the conservation & renovation of some of these sites.
Research – Some research articles related to Jain history and heritage authored by research scholars have been published on our website.
Publishing un-published inscriptions – Our website has been the launchpad for publishing many un-published Jain inscriptions based on the recent discoveries by scholars.
Recognition by Universities – A few of the articles published on our website have been recognized by some universities. This is indeed a coveted recognition of our work.
Projects with People & Organizations Outside India – In the due course of our journey we have had the opportunity to work with many people & organizations outside India and this led to working on many projects with them. Just to mention a couple of them – we contributed few images on the theme "Jain way of Life" for the 1st book on Jainism in Slovakian language. We were instrumental and was actively involved in the production of the 1st documentary on Jainism in the Korean language, we have also helped many Jain research students & scholars in their research on Jainism.
Websites on Jain Heritage Centres – We have developed and launched the websites of various Jain Heritage centres based on the instructions of the Bhattarakhas of various Jain Maths. Among them the website related to the Mahamastakabisheka of Lord Bahubali at Shravanabelagola is in existence since 2005, the website related to the Hombuja Jain Math is in existence since 2013.
The "Jain Heritage and Archaeology" exhibition organized during Mahamastakabisheka of Lord Bahubali at Shravanabelagola in 2018 is one of the best projects we have worked.
This was a glimpse of the projects we have worked over the past 18 years. Probably an attempt to document all our projects might lead to a new book altogether.
We have come across a lot of kind gestures by people during our field visits. They have considered us as one among them. Their love and affection are priceless. We have encountered numerous researchers, scholars, Jain activists, and many others on this journey over the years. A few of them have transformed to be our family friends.
Many individuals have cooperated, guided, and worked with us in our mission over the past 18 years. We have been successful in our journey to date due to the guidance of Jain scholars, researchers, activists, Gurus, Bhattarakhas, and family members.
We wholeheartedly thank all of you for extending this unconditional support and love towards the success of your dear website – www.jainheritagecentres.com.
We look forward to your continued support and guidance in our Journey ahead…..
With Warm Regards,
Nitin H P
Founder & Executive Director
WWW.JAINHERITAGECENTRES.COM
Celebrating Jain Heritage…..Globally!
26th May 2020