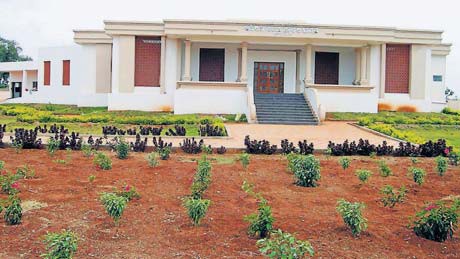 Annigeri (Dharwad District, Karnataka), September 24, 2012: "It was a dream come true", for the people of Annigeri. Annigeri is the birth place of Pampa the renowned Jaina poet of 10th Century. Though he had liked Banvasi very much he was born here at his mother's home town and it was a long awaited dream of the people of this region to have a memorial in his name.
The chief minister of Karnataka Sri Jagadish Shettar inaugurated the memorial that houses an auditorium of 350 seating capacity with two green rooms and a beautiful garden.
The district deputy director of the depatment of Kananda & culture, Governemnt of Karnataka, B.D.Hiregowdar said that – the department plans to host a series of events related to Kannada literature & Jainism in the form of seminars, workshops, book exhibitions & cultural events at the venue".
Speaking on the occasion noted Kannada research scholar Dr.M.M.Kalburgi said that, in 1998 when he was conferred a cash prize of Rs. 1 Lakh along with the 'Pampa Prashasti' (Pampa award) at Banavasi he had returned that amount to the Government for building the memorial and that he was very happy to see the memorial come up. He added that, the Government could have come up with a much attractive heritage building but still he is glad that they did this.
About Pampa – Pampa, called by the honorific ?dikavi is one of the greatest Kannada poets of all time. He is considered to be one among the Ratnatrayas (along with Sri Ranna & Ponna) of Kannada literature. He settled down as the court poet of King Arikesari II, a Chalukya king and a Rashtrakuta feudatory. Flattered by his knowledge and poetic abilities Arikesari conferred on him the title 'Kavita Gunarnava'. At the age of 39 he wrote his first masterpiece, Adipurana in 941 and a little later he completed Vikramarjuna Vijaya popularly known as Pampa Bharata. These two works have remained unparalleled works of classic Kannada composition & have served as the model for all future works in Kannada. Vikramarjuna Vijaya is a Kannada version of the Mahabharata of Vyasa. Adipurana, written in Champu style, a mixed form of prose and verse, is a Kannada version of the Sanskrit work by Jinasena and details in sixteen cantos the life of the first Tirthankara of Jainism, Rishabha. – Jain Heritage Centres News Service