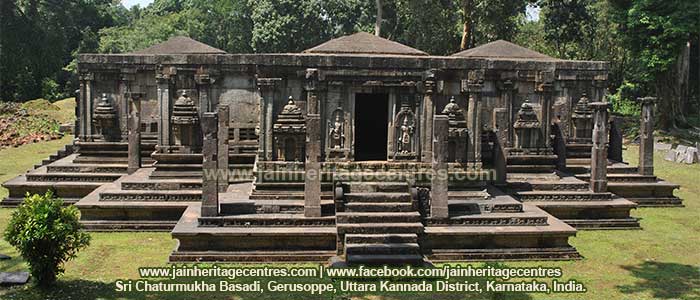 Gerusoppe (Uttara Kannada District, Karnataka), October 1, 2013: On the occasion of Navarathri & Vijayadashami special poojas and other related religious celebrations have been organised at the ancient Jain Heritage Centre Gerusoppe from October 5-14, 2013 in accordance to the Jain tradition that has been followed over the centuries. The pooja will be performed as per the directions of His Holiness Swasti Sri Bhattakalanka Swamiji of Sonda Jain Mutt. Special poojas will be organised on all the days of Navaratri. The president of Rani Chennabhyradevi Digambar Jain Trust (R) Kshemapura Sri Muppane Lokaraj has informed this to JHC.
The detailed programme schedule is as below:
Saturday October 5, 2013: Ghata Sthapana (beginning of Navarathri), Sri Charkeshwari Yakshi pooja
Sunday October 6, 2013: Sri Kushmandini Yakshi pooja
Monday October 7, 2013: Sri Gowri Yakshi pooja
Tuesday October 8, 2013: Sri Mahakali Yakshi pooja
Wednesday October 9, 2013: Sri Ananthamathi Yakshi pooja
Thursday October 10, 2013: Sri Jwalamalini Yakshi and Sri Sharada pooja
Friday October 11, 2013: Sri Padmavati Yakshi pooja
Saturday October 12, 2013: Sri Bahurupini Yakshi pooja
Sunday October 13, 2013: Sri Sidhayini Yakshi pooja
Monday October 14, 2013: Vijayadashami & pallakki utsava of Goddess Jwalamalini Yakshi
On all these days panchamrutha pooja will be performed to Lord Parshwanath. All the poojas will be performed from 8.30 am to 1.30 pm on all the days. The poojas will be performed by Sri Lakshmipathi Indra and Sri Mohan Kumar Indra of Bidaruru whose family have been performing these rituals at Gerusoppe since centuries.
About Gerusoppe – Gerusoppe/Gerusoppa is a popular Jain Heritage Centre that flourished as a chief Jain centre during­­ the period from 13th-16th century. It was also called by the names Kshemapura/Kshemapura Tirtha/Kshemavenapura/Ballatakipura in the history. It was the capital of the Saluva Kings for a considerable period. The period of Rani Chennbyradevi (1554-1602 A.D.) is considered to be the golden period in the history of Gerusoppe. Historical references state that there existed 108 Jain temples at Gerusoppe spread over a vast area of around 700 acres. However, to its dismay Gerusoppe is in its ruins now to find only five Jain temples, namely – Chaturmukha basadi, Sri Parshwanath basadi, Sri Parshwanath temple, Sri Mahavir temple & Sri Neminath temple. Chaturmukha Basadi that exists even now is one of the best temples that stand as a testimony to the art & architecture of ancient times. Sri Parshwanath temple that houses the Goddess Jwalamalini idol is the only temple where regular pooja is performed. The idol of Lord Neminath at Neminath Temple is very magnanamous & famous for the attractive carvings around the idol. Historically, Gerusoppe is the original seat of Goddess Jwalamalini the chief Goddess of Narasimharajapura. Owing to its vast unexplored heritage & ruins, Gerusoppe is sometimes called as 'Harappa of the Jains'.
Location – It is situated at a distance of 123 Kms from its district centre Karwar, 34 Kms from Honnavar the nearest taluk centre & 35 Kms from the world famous Jog Falls. The nearest railway station is Talaguppa at a distance of 45 Kms.
Boarding & Lodging Facilities – On advanced/prior communication lodging & boarding facilities will be provided to pilgrims & devotees visiting the temple.
– Nitin H.P., Jain Heritage Centres News Service