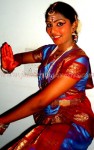 Davanagere (Karanataka), November 30: N. Padmashree Jain a young upcoming talented dancer from Davanagere is all set to enter the international arena through her bharatanatyam perfromance at Abudhabi. She has been invited by the Karnataka Sangha of Abudhabi to perform at the 9th Vishwa Kannada Samskruthi Sammelana to be held on December 14 & 15, 2012. Daughter of Sri J Nagaraj & Smt Harsha, she is studying in class 10 at the Saint Paul's Convent, Davanagere.
Further, Padmashree has also participated in many state level science exhibitions, table tennis competitions & state level Pratibha Karanji events.
Her dedication to Bhatatanatyam is worth noting & appreciable. Padmashree a disciple of Vidiushi Brunda Srinivas has completed the junior & senior exams in Bharatanatyam with distinction marks and is pursuing her vidwat in Bharatanatyam.
WWW.JAINHERITAGECENTRES.COM wishes this young budding artist all the very best in her dancing career. – Jain Heritage Centres News Service