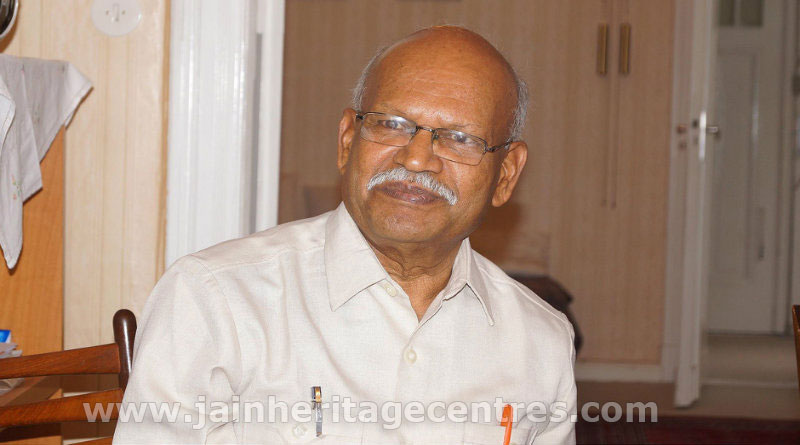 New Delhi, 15th August 2019: Renowned Kannada & Jain scholar Prof. Hampa Nagarajaiah (popularly called as Hampana) has been chosen for the coveted President's certificate of Honour for his contribution to classical Kannada language. This distinction is conferred on persons once a year on the Independence Day (15 August) in recognition of their substantial contribution in the field of Sanskrit, Persian, Arabic, Pali, Prakrit, Classical Oriya, Classical Kannada, Classical Telugu, and Classical Malayalam.
The award introduced in the year 2002 carries a certificate of honour, a memento and a one-time cash prize of Rs.5 lakhs. The award will be presented by the President of India at a function that will be organised by the Government of India.
Speaking to Nitin H P of www.jainheritagecentres.com Prof. Hampna has expressed his happiness on being conferred with this award. He has further mentioned that happiness has increased further since the award has been announced on the Indian Independence Day.
Prof. Hampana is one of the renowned Kannada & Jain scholars who has contributed immensely to Kannada language & literature. A former professor and dean of Arts faculty in Bengaluru University, he also officiated as director of Jain Research Centre, director of the Institute of Jain Studies, and director of the Department of Kannada and Culture, Karnataka government, before retiring in 1996.
He is the recipient of the prestigious Pamapa Prashasti given by the Government of Karnataka in 2017. He was also bestowed with the Karnataka Sahitya Academy award, Janapada Yakshagana Academy award and National Award for Best Child Literature.
A History of Rashtrakutas, Opulent Chandragiri, Jaina Iconography is some of his best works. His Jain Mahakavya (Classic) "Charu Vasantha" has been translated to several languages. He is also known for his remarkable contribution in the field of Kannada and Jain inscriptional research. He has given many lectures about various aspects of Kannada language and Jainism in international universities and conferences in over 25 countries.
– Jain Heritage Centres News Service (JHCNS)