– Article & Photos by Nitin H P
Here is a live example of how Jainism can be taken to the common man and propagated effectively.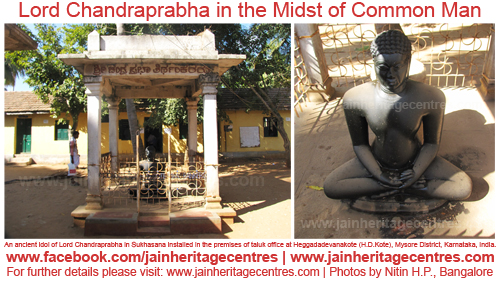 Idol of Lord Chandraprabha installed in the premises of taluk office at H.D.Kote, Mysore District, Karnataka, India.
When Jain idols are found during the digging of some foundation or some excavation the people react to it in two ways. If the explored idol is not ruined and is intact with out any scratches or ruins then usually members of Jain community speaks to the Government authorities  to hand it over to them so that they can perform daily worship in terms of poojas and other rituals. Just in case if the idols are ruined even by a whisker and discover that the idol is unfit for any worship then many a times the community does not show any interest towards the idols. On many instances the community members will not be bothered to go and have a look at it and check as to what the idol is all about. But, here lies an example to be followed by members of the community. A few years back an ancient slightly ruined idol of Lord Chandraprabha the 8th Tirthankar in sukhasana was discovered at Heggadadevanakote (H.D.Kote in Mysore district of Karnataka) while the foundation was dug for carrying out some construction in the premises of the taluk office (Tashildar office). The members of the Jain samaj at Sargur used this as an opportunity and approached the adminsitrative head of the taluk i.e. Tashildar and persued him to install the idol with in a small mantapa in the premises of the taluk office. The idol which otherwise would have been installed in the corner of a Jain temple or in a museum with limited visitors is consecrated at a central location in the taluk office at H.D.Kote. There by the idol is attracting the attention of thousands of people both Jains and non-Jains every day who visit this office for their work with the Goverment and propagating the message of Jainism. This is a clear example as to how Jainism can be taken to the common man and propagated effectively. Kudos to the vision of the members of Sargur Jain samaj. – Article by Nitin H.P.