Muguru is an ancient Jain Heritage Centre in the T.Narasipura (Tirumakudal Narsipur) taluk of Mysore district in Karnataka. Its history that dates back to 11th-12th century A.D. Ancient Digambar Jain temples dedicated to Tirthankar Adinath and Parshwanath are seen at Muguru.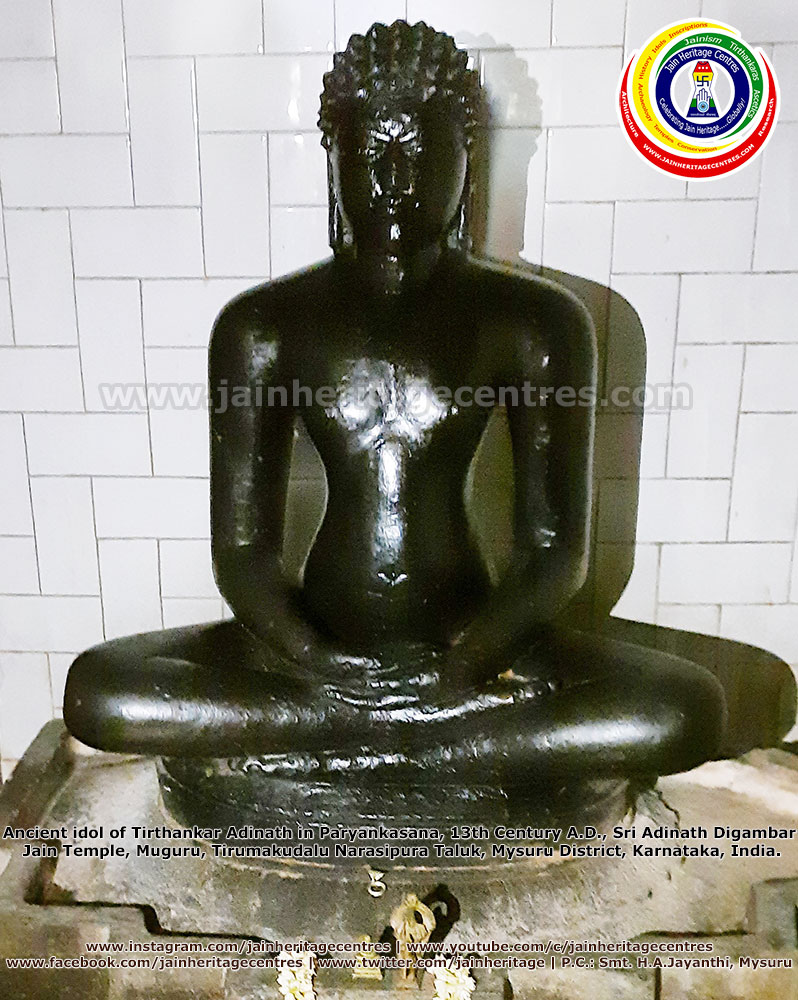 Main Deities – Stone idols of Tirthankar Adinath in Paryankasana and Tirthankar Parshwanath in Kayotsarga posture.
History – There are 2 Digambar Jain temples at Muguru and are within the same compound.
Sri Adinath Swamy Digambar Jain Temple – This is a Basadi built of stone. It has a Garbagriha, sukhanasi and a small hall. The 1st Tirthankar of Jainism Lord Adinath is the main deity of this temple. The idol of Lord Adinath is in Paryankasana (seating posture) and is installed on a Kamala Peetha (Lotus shaped pedestal). This Kamala Peetha is inturn installed on a simha peetha (pedestal with a lion) with Pranala (a pathway for the exit of anointed water). In the temple's hall is installed an idol of Tirthankar Parshwanath in Kayotsarga (standing posture).
Inscription along Adinath Tirthankar – There is a four lines inscription along the pedestal of the Adinath idol at this Jain temple. The period of the inscription is not mentioned. Based on the inscriptional text it is concluded that this idol belongs to 13th century A.D. It indicates that Sri Mulasangha Desiyagana Pustakagachha Kondakundanvaya's (unclear text) As a replica of Hagare Tirtha Jakkiabe's daughter gave a (unclear text) to Bharata Pandita.1,2,3
Renovation of Adinath Basadi – This temple was renovated under the leadership of Late Sri N. Anantharaj and a Damasamprokshana (post renovation ceremony) pooja was conducted in 1993 under the guidance and presence of His Holiness SwastiSri Charukeerthi Bhattarakha Swamiji of Shravanabelagola Jain Math.
Sri Parshwanath Swamy Digambar Jain Basadi – This is a stone structure and is a diapilated condition. The stone of the outer walls have been taken away by miscreants. It has a Navaranga, Sukanasi, Antarala and a Garbagriha. Since the temple is in a diapilated condition the Parshwanath Tirthankar idol has been kept in the Adinath Tirthankar temple adjascent to this Basadi.
Inscription – There is a 2 lines inscription along the pedestal of this idol. An inscription along the pedestal of the idol. It indicates that Sri Mulasangha Desigana Pustakagachha Kondakundanvaya Ingaleshwara Sangha's Bhanukeerthi Pandita Deva's disciples and leaders of Muguru renovated this temple and installed an idol. The actual period of this inscription is not mentioned. However, based on the inscriptional text it is concluded to belong to 13th century A.D. 1,2,3
Considering the fact that the inscription along the pedestal of Parshwanath idol mentions that the temple was renovated it can be concluded that this temple much be much older than 13th century and it might have been constructed in 11th or 12th century A.D. and the Jain history of Muguru can be dated to begin from 11th century A.D.
Other Temples at Muguru – Sri Tripurasundari or Sri Tibbadevi temple is a very famous Hindu temple it has a good followership across Mysuru, Chamarajanagar, Mandya and Bengaluru districts. We can also find the temples of Shiva and temple said to be to Tibbadevi are also seen here.
How to Reach – Muguru is at a distance of 11 Kms from T.Narasipura, the taluk centre; 16 Kms from the Jain centre Kuderu and 45 Kms from Mysuru, the district centre.
References:
Epigraphia Carnatica V(R) Tb 281.
Mysore Archaeological Research 1938 No. 57
Karnataka Jaina Shasanagalu, Samputa – 2, Pg. 99,100; Chief Editor: Dr. DevarakondaReddy