Jhalrapatan is a town in Jhalawar district of Rajasthan. Jhalrapatan is especially famous for its early medieval to later medieval temples. While the area was once famous for its many ancient temples, after the large-scale destruction during the Islamic invasions, now only four or five temples from the early medieval period still survive.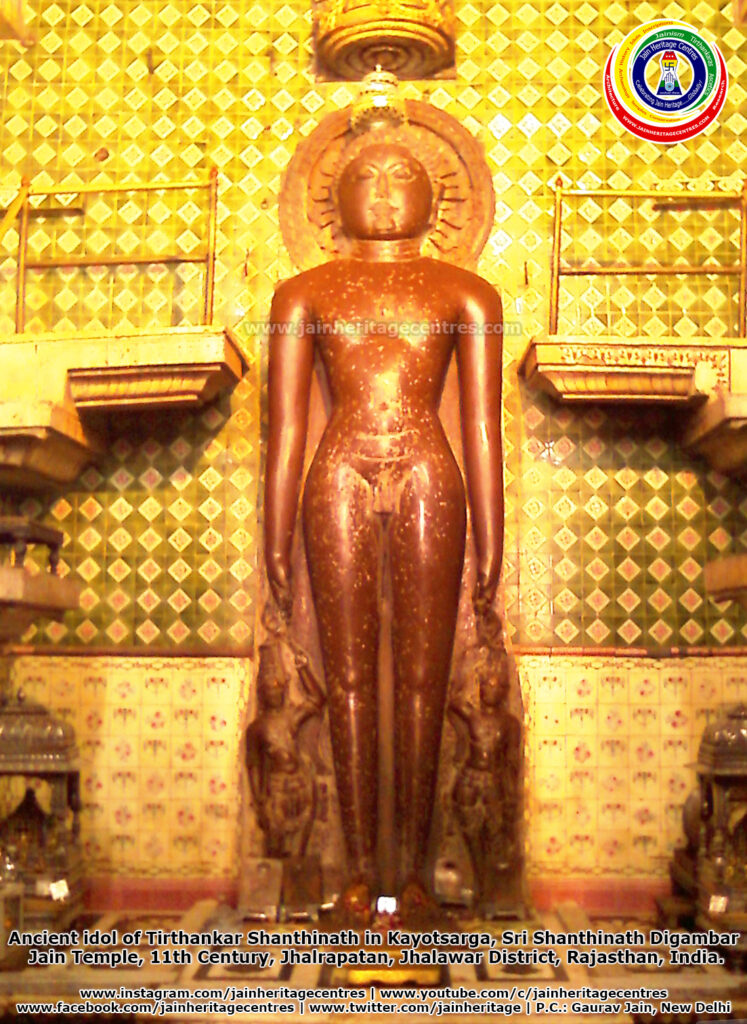 Main Deity – An ancient idol of Tirthankar Shanthinath in Kayotsarga.
Temple's History – Sri Shantinath Digmabar Jain Temple was built in the 11th century. The temple is beautiful with fine carvings and magnificent sculptures. It is decorated with two white elephants at the entrance of the main temple.
The temple is very unique of its kind with very fascinating structures and installations. The outer walls of the temple is decorated with attractive carvings. The interiors of the temple is also decorated with attractively carved doorways, walls & pillars. We can also see many Vedhis/Altars. There are about 5 different vedhis dedicated to Tirthankar Parshwanath. Tirthankar Munisuvrata is also installed in a seperate vedhi. Idols of Dharanendra Yaksha and Padmavti Yakshi are also seen.
A seperate attractively carved altar made of sliver with Jain idols is also seen in the temple. An attractively made pandukashila made of gold is another attraction of this temple.
Manastambha – A very unique ancient structure of a manastambha made of Ashtadathu – 8 metals is very attractive. It is about 7 feet high with 6 steps. Each step is a hexagonal structure with 4 Tirthankars. at its top is seen a shikhara. Unlike other Manastambhas this Manastambha is installed on an altar inside the temple.
Jal Ghadi/Water Clock – A very ancient clock made of 2 vessels and water is one of the unique and fascinating things at this temple. This clock works similarly to any other clocks. It was used by members of the Jain community to see the time for practicing Jain rituals.
How to Reach – Jhalrapatan is located at a distance of 40 Kms from Chandkheri and 90 Kms from Kota.