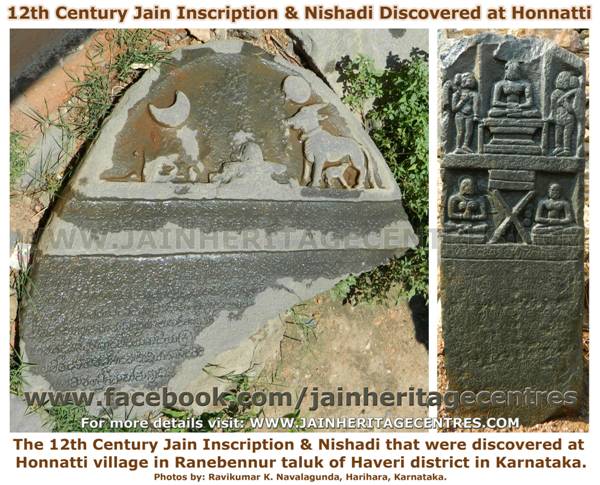 Honnatti (Ranebennur Taluk, Haveri District, Karnataka), September 10, 2014: An ancient Jain inscription and a Nishadi (Jain memorial stone) have been discovered at Honnatti in Ranebennur Taluk of haveri district in Karnataka. This was discovered by Sri Ravikumar K Navalagunda, lecture of Kannada, Government Per-University College, Bannikod, Harihara. Ravikumar is a research scholar perusing his PHD on the subject 'Jain Inscriptions in Haveri district' from the Kannada University, Hampi under the guidance of Dr.Paramashivamurthy.
A few months ago while renovating Sri Veerabadhra Temple in the village using a JCB an inscription was discovered and broke into 2 halves. One of the halves was kept in the premises of this temple and was found along its left side. However, this part of the inscription was again buried in the ground and on cleaning, it was an inscription. The other part of the inscription was not discovered in the surroundings.
Converted Inscription – This bow shaped inscription has few carvings followed by the text. We can find the carvings of a Jain muni in padmasana with a distorted image of Kamandala and Pinchi. It is interesting to note that the Jina image at the centre has been distorted/chopped to the shape of a linga.
Details of the Inscription – It has 14 lines and we can find the mention of the Jain ascetic Gunachandra Maladharideva and name of another person who has built a Jain Basadi. This is followed by the Jain shloka – "Srimatparamagambhira Syadvadamogha Lanchanam Jiya Trilokya Nathasya Shasanam Jinashasanam". Further, we can find a mention of the Chalukyana King Tribhuvanamalla's grant followed by the grant of Mahamandaleshwara Senguna (Sevuna) Simhanadeva. We cannot find the successive lines of the inscription as it is broken and non traceable.
Jain Nishadi – Another Jain Nishadi is found in the premises of Sri Narayana temple at Honnatti. A reference to this Nishadi is made in the records. However, this is unpublished. Sri Ravikumar has unearthed its details. The line "Nagara Jinala(ya)kke Siddha Ga Undana Hariyappa Halaru Bittantha" indicates that there existed a Jain temple in this village and was called as "Nagara Jinalaya".
Further, we can find a reference to "Chembasadi" in one other published inscription found in this village (SII.XVIII.124 Honnatti, 1124 A.D., Pg. no. 153, lines 34-35).
Ravikumar opines that the names of the above two temples could be of a single Jain temple. Further, it is opined that the present Verabadhra temple could have been a Jain temple (Karnataka State Gazeteer Dharwad District, 1995, Pg. no. 1051).
Period of the Inscription – Further, Vikramaditya VI's rule ended in 1126 and Simhanadeva 1st ruled the region from A.D. 1110 to 1145. Hence it can conclude that it belonged to a period of around A.D. 1110-1126. – Jain Heritage Centres