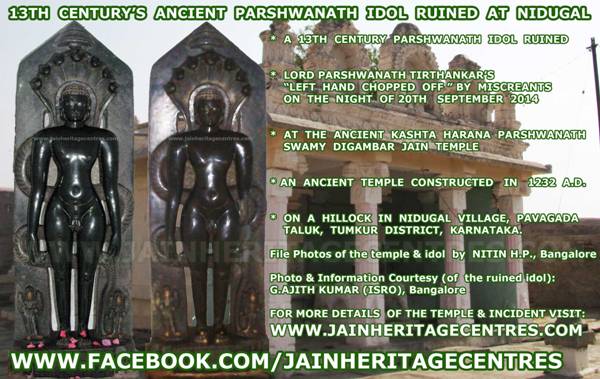 Nidugal (Pavagada Taluk, Tumkur District, Karnataka), September 21, 2014: The ancient 13th century idol of Lord Parshwanth in Kayotsarga (standing posture) has been ruined by miscreants on the night of 20th September 2014. Left hand of the idol has been chopped off and has been taken away. The incident came to light on 21st September morning at 9.45 am when the temple's priest opened the door for daily pooja at the ancient temple constructed in 1232 A.D.
"The priest informed trustees of the temple immediately following which Jains from Pavagada and Rangasamudra rushed to the spot and collected in huge numbers. The trustees of the temple have lodged a complaint with the Arasikere police station", said Mr.Nemiraj, the secretary of the temple trust while speaking to Nitin H.P., executive editor of www.jainheritagecentres.com (JHC). Following this the inspector of Arasikere police station along with his team visited the temple and carried out further investigations.
Remote Temple – The motive behind the incident is yet to be detected. No wonder the temple being remotely located on a hillock was always vulnerable to such attacks as there isn't much of human habitation around the temple except for a couple of ancient Hindu temples being located besides this temple. Every day the priest used to commute to the temple to offer poojas for a near by village. The members of Bhagawan Sri Kashtaharana Parshwanatha Swamy Jernoddhara Committee (R) the trust that oversees the administration of this temple are all based out of Pavagada the nearest town & taluk centre located at a distance of 25 Kms from the temple.
Condemns Attack – While contacted by JHC Sri P. Sundara Raj, president of the temple trust condemned the attack and felt that it was very sad that such an ancient miraculous idol was ruined. – Jain Heritage Centres News Service (Reported by Nitin H.P., Bangalore; Inputs from G.Ajith Kumar, Bangalore)