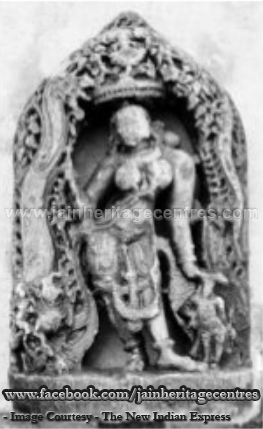 Haveri (Karnataka), October 18, 2013: An inscribed sculpture of Jain Yakshi Ambika was discovered at Karajagi village in Haveri taluk.
Shivayogi R Korishettar, Associate Professor of History at G H College in Haveri, found the sculpture during his explorations near a Siva temple on the banks of river Varada.
Prof Shrinivas Padigar, chairman of the department of Ancient Indian History and Epigraphy, Karnatak University, Dharwad, identified the image as that of Ambika Yakshi of Neminatha, the 22nd Jain Tirthankara.
The sculpture, over half a metre in height, was apparently meant to be installed as a subsidiary statue in a Jain Basadi. Carved out of greenish-grey chloritic schist, the sculpture depicts a two-armed deity adorned with beaded ornaments, bent over, standing under an umbrella beside a mango tree.
She is holding a bunch of mangoes in her right hand and touching her son with the left. Above the umbrella, amidst the creepers, is a miniature seated Jain Tirthankara Neminatha.
The uniqueness of the sculpture lies in the fact that it depicts Ambika Yakshi in a standing posture independently while the usual tradition in Karnataka depicts her seated.
Further, the sculpture carries a two-line Sanskrit inscription in Nagari script about the date of its installation – "Ambikadevi, Shaka 1173, Virodhikrit. Samvatsara, Vaishakha Shuddha 5, Guruvara." This corresponds to Thursday, April 27, 1251 AD.  The discovery of this sculpture shows that like nearby Devagiri where numerous Jain remains have been found, Karajagi must have been a Jain centre during the medieval period and some of the architectural fragments found in the village may have originally belonged to a Jain Basadi. – News & Image Courtesy: The New Indian Express