Bengaluru (Karnataka, India), 22nd May 2022: The 20th Anniversary Celebrations of the website WWW.JAINHERITAGECENTRES.COM (JHC) and the Jain Heritage Festival 2022 will be inaugurated on 26th May 2022 virtually through an online event. Professor Emeritus and international Jain scholar Nadoja Dr. Hampana will inaugurate the event through his lecture on the topic "Kurikyala's JinaVallabha Inscription".
Dr. Alok Tripathi, Additional Director General, Archaeological Survey of India, New Delhi will be guest of honour. Sahu R.P.Jain, a Jain activist from New Delhi will deliver the Welcome note. Mr. Nitin H.P., Founder and Executive Director, www.jainheritagecentres.com will deliver the keynote address.
Mr. Gaurav Jain, a Jain researcher from New Delhi will be the master of the ceremony. Smt.K.P.Sudhadevi from Bengaluru will do the invocation.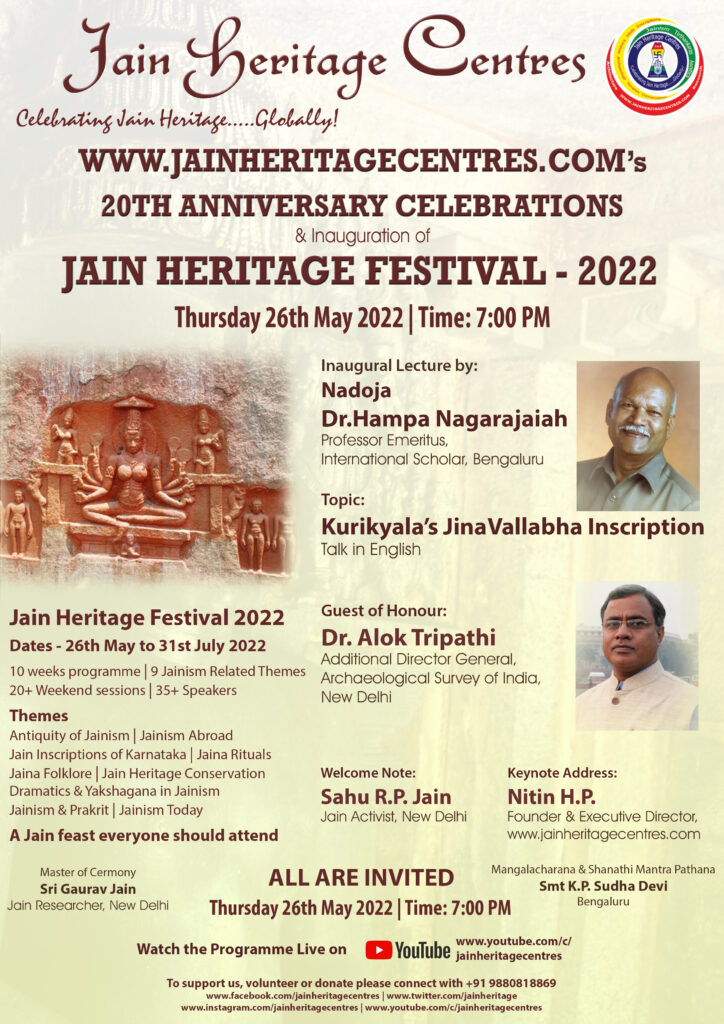 About Jain Heritage Festival – Jain Heritage Festival is an initiative by the website www.jainheritagecentres.com (JHC). It is an annual event that brings together a diverse mix of Jain researchers, writers, philosophers, thinkers, and activists on one stage. It enables discussions about Jainism, its history, heritage, philosophy, and current challenges between the academicians and the common men through the exchange of thoughts, debate, and dialogue.
This year's event is the 1st edition of the Jain Heritage Festival. It is a 10-week-long programme once initiated on 26th May 2022 it will extend till 31st July 2022. Over 35+ scholars across the world will be speaking in 20 different weekend sessions on topics related to 9 different Jainism-related themes.
This year's themes include Antiquity of Jainism, Jainism Abroad, Jain Inscriptions of Karnataka, Jaina Rituals, Jaina Folklore, Jain Heritage Conservation, Dramatics; Yakshagana in Jainism, Jainism; Prakrit and Jainism Today.
The inaugural session followed by all the other sessions will be live-streamed on JHC's YouTube channel – www.youtube.com/c/jainheritagecentres. Interested people can subscribe to JHC's YouTube channel. For further details please get in touch with +91 9880818869. – Jain Heritage Centres News Service