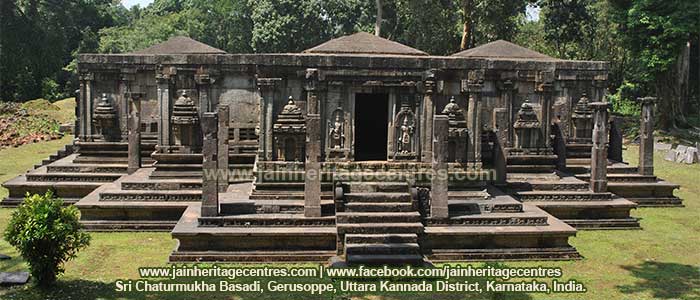 A view of Chaturmukha Basadi – Gerusoppe
Gerusoppa/Gerusoppe (Uttara Kannada District, Karnataka): Chaturmukha Basadi, the 14th century Jain basti is one of Karnataka's architectural wonders, hidden in the midst of the Western Ghats in the Uttar Kannada District. Your journey will take you past mountain waterfalls and across the perilous rope bridges that hang over the Sharavati river.
The temple, which is hardly known to the world, is also called the Gerusoppe temple. The temple complex has great tourism potential, located as it is in the midst of nature's wild beauty.
According to Mahesh Indra, a local, the temple complex and its statues throw light on the reign of the Salva dynasty. Gerusoppa is located to the east of NH 206, about
30 kms away from Honnavar, but has failed to attract the tourists. "Beautiful Hoysala-style architec ture can be seen in this Jain temple and the many statues and manuscripts found here stand testimony to the fact that the Salva rulers were great patrons of the art and architecture," Indra explained.
The Chaturmukha Basti, built completely out of granite, contains statues of four Jain `teerthankaras'. The statues are well-polished, but losing their colour. while one has been disfigured by miscreants.
"The temple complex, said to have been built by Chennabairadevi, seems incomplete. The reign of Chennabairadevi, the Pepper Queen, is referred to as the golden age of the Salva Dynasty marked by the export of high quality pepper grown in nearby areas," Indra added.
Apart from Chaturmukha basti, there are other buildings, statues, stone-edicts in the adjoining areas that are now dilapidated. Lack of concern for these heritage buildings has turned a place of architectural importance into a place of neglect. – Article Courtesy: Deccan Chronicle