Janna is one of the renowned Jain poet who lived during the late 12th century and early 13th century in court of Hoysala Kings Veeraballala II and Narasimha.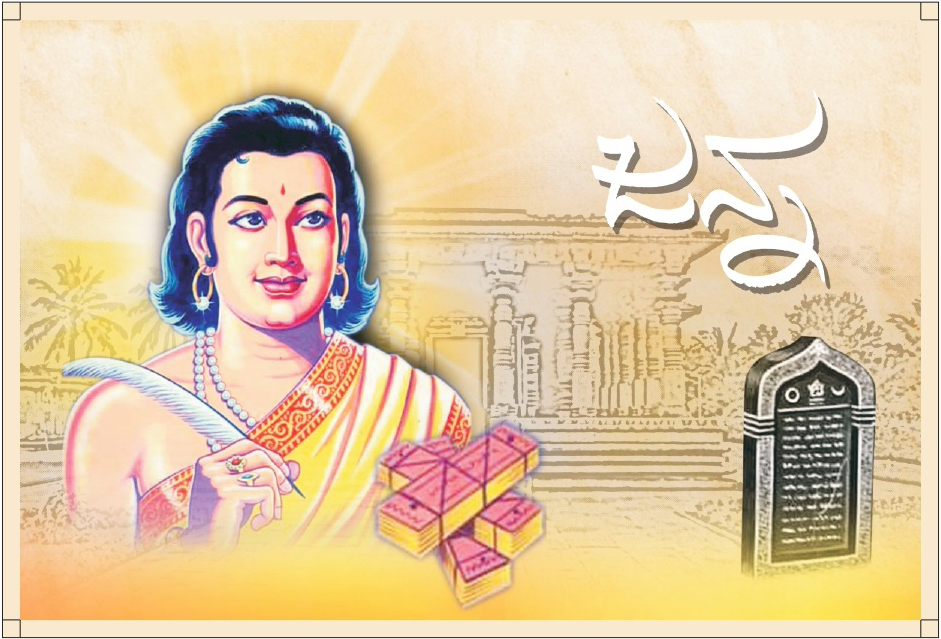 Janna's family
He belong to Kammevamsha, Kashyapa Gothra. His father was Shankara, mother was Gangadevi, wife Lakumadevi. His religious guru was Gandavimuktha Ramachandradeva Muni a disciple of Kanurgana's Madhavachandra. Janna was born in Ashada Krishna Triyodashi Revati Nakshatra Shivayoga, but the date is unknown. Based on his works and other details it is concluded that he lived during the late 12th century and early 13th century. Janna's actual place is not known. However, many of his inscriptions are found in Channarayapatna and Tarikere region. Hence it is concluded that he belonged to Halebidu region.
Multifaceted Janna
In addtion to being a poet he was also a general and a minister. He was a court poet of Hoysala king Veeraballala II and earned the title "Kavichakravarthi". He was the court poet, a general and a minister in the court of Hoysala king Narasimha.
Janna's Poetic Works
Yashodhara Charite – This was written during the period of Hoysala King Veera Ballala II (1173 to 1220 A.D.) in 1209 A.D. Yashodhara Charite is related to the popular story of following Jeevadaya Ashtami in Jainism that has been discussed in some of the Sanskrit and Prakrit works. It is an epic written in the kandapadya metre is a unique set of stories in 310 verses dealing with perverted sex and violence and contains cautionary morals on the issue of extreme desires. Janna transcreates stories of king Yashodhara and his mother and their passing from one life to the next without attaining moksha (liberation from cycle of death and rebirth). In one of the stories, the king intends to perform a ritual sacrifice of two young boys to a local deity, Mariamma. Taking pity on the boys, the king releases them and gives up the practice of human sacrifice. In another story, the poet narrates the infatuation of the king for his friends wife. Having killed his friend, the king abducts the wife who however dies of grief. Overcome by repentance, he burns himself on the funeral pyre of the woman. The stories of infatuation reaches a peak when Janna narrates the attraction of Amrutamati, the queen, to the ugly mahout Ashtavakra, who pleases the queen with kicks and whip lashes—a story that has piqued the interest of modern research. To expiate the queen from her sinful act, King Yashodhara takes his mothers advice and decides to perform a symbolic sacrifice of a cock made of flour, to please the gods. But the cock comes to life and crows at its time of death. For committing the sin of violence, Yashodhara and his mother are reborn as animals. After much suffering, they are eventually born as the children of Yashodhara's son in their seventh rebirth. The writing powerfully narrates the consequences of passion gone awry and the terrible suffering it brings in human life.
Ananthanatha Purana – This was written during the peirod of Narasimha, son of Veera Ballala II in 1230 A.D. This work composed in the Champu style is a biographical account of Ananthanatha or Anantha Jina, the 14th teerthankara. This contains fourteen chapters consisting of approximately 1400 poems. This is an expansion of about ninety poems in the Sanskrit work 'Uttara Purana' written by Gunabhadracharya. Unlike other epics in Kannada based on the lives of teerthankaras 'Ananthanathapurana' is confined to just two previous incarnations of Ananthanatha. (Bhavavali) The lives of Suprabha, Purushottama, Madhu Kaithabha and Padmaratha are among various characters that appear in this delineation.'Ananthanatha Purana' is a full fledged epic following all the stipualtions that were laid down for that genre. The eighteen mandatory descriptions (Ashtadasha Varnane) and the customary descriptions expected in a Jaina classic such as the conception, birth and the renunciation of the teerthankara make their appearance with out fail. But all of them are very mechanical and shackled by religious considerations.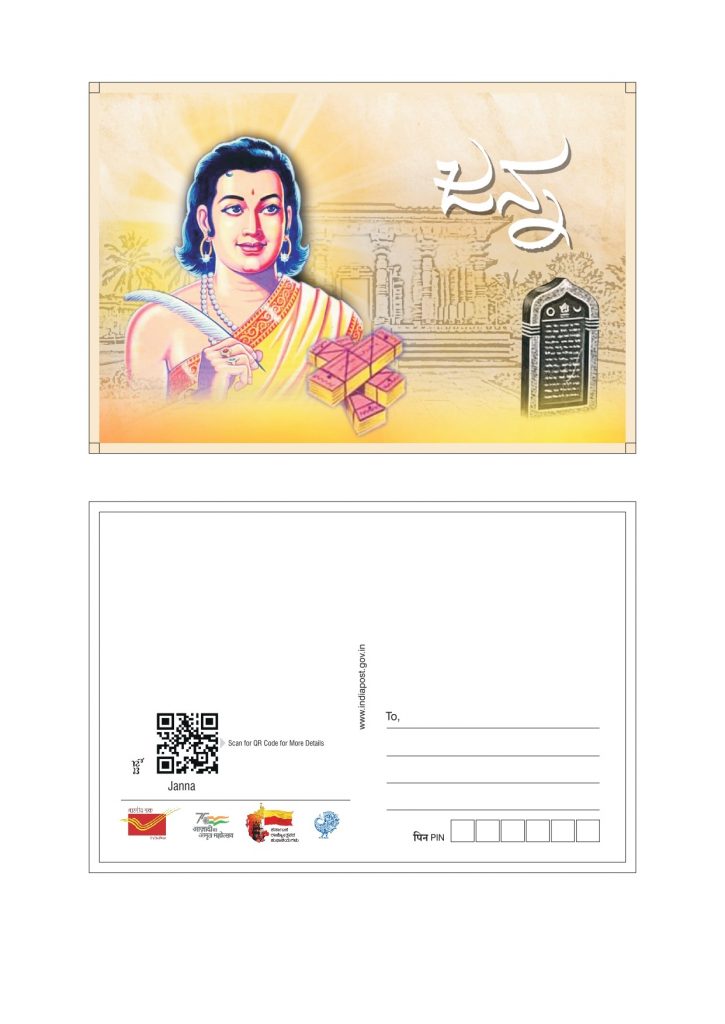 Even the descriptions of nature follow a set pattern.However 'Ananthanathapurana' contains a water shed in the story of Chandashasana, Sunanda and Vasushena. This of course is a love story that was doomed to fail because of its illicit dimension. Chandashasana's genuine love for Sunanda the queen of Vasushena has a magnetic appeal for the modern reader. None of the main characters can be faulted for their decisions and actions. However one is left with a sense of despair at the death of Chandashasana and Sunanda. Vasushena's decision to take up sanyasa looks mild in comparision. This is a love story narrated with lots of power and passion even though it does not fit in to the general pattern of the whole epic.
Composing Inscriptions – Janna was also well versed in composing inscriptions. All his inscriptions have been compiled in a book form.
Pen Names or Kavyanama – Janna had different Kavyanamas as Janna, Jannaiah, Jannamaiah, Janniga, Jannamarasa, Janardhanadeva, Janaki.
This picture postcard on Jain Kannada Poet Janna has been released by the Mangalore Postal Division, Department of Post, Government of India, on the occasion of "Kannada Rajyotsava – 2022" under the "Jina Ratna Bhushanaru" series. The picture postcard has been sponsored by Hombuja Jain Math. The entire project has been led by Mahavir Kundur, Hubli.