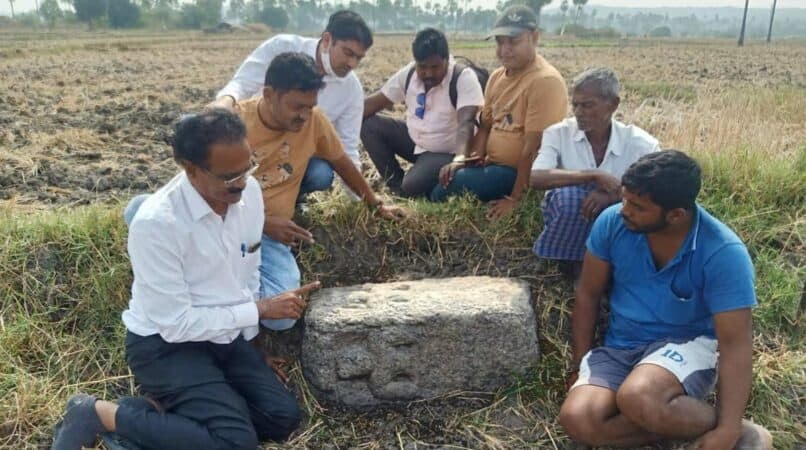 Hyderabad, 15th December 2021: Two sets of Jain Chaturmukha/Chowmukha dating back to medieval period have been found in an agriculture field at Kurella village in Koheda mandal of Siddipet district.
Based on information given by Perugu Mahendar Reddy, a youth of Kurella village, and Ahobilam Karunakar, an active member of Kotta Telangana Charitra Brindam led by Sriramoju Haragopal, archaeologist and CEO, Pleach India Foundation, Dr. E Sivanagireddy rushed to the spot and conducted a thorough inspection in and around the village to assess the historical significance of the Jain idols.
There are altogether three sets of Jain Chowmukhs in the village out of them, one located near Pochamma temple was already reported and the other two sets of Jain Chowmukhs were found for the first time from the field near Tollabanda at a distance of two km from the village.
According to Dr. Sivanagireddy, during his explorations, he identified three rock cut groves square in plan measuring 1.5 ft on each side with a depth of two inches in which the Jain chowmukhs were inserted. Among these three sets, two are found today and one noticed earlier is located near Pochamma temple in the village.
The Jain chowmukh sculptures representing Adinatha, Nemunatha, Parswanatha and Vardhamana Mahavira of naked digambar sect of Jainism are seen seated in padmasana contemplating meditation.
Based on the style of art and iconography, Reddy dates them to the Rastrakuta or Chalukyas of Vemulawada (10th century AD) who ruled the area from which these Jaina sculptures are found.
Reddy sensitized the villagers on the historicity of the sculptures and appealed to them to preserve them for posterity by again inserting them in their original place on Tollabanda.
Ahobilam Karunakar, Md. Nasiruddin. Md. Anwar Pasha of Kotta Telangana Charitra Brindam and villagers – Bikshapathi, Ramesh and Kishore participated in the explorations. – News & Photo Courtesy: Telangana Today