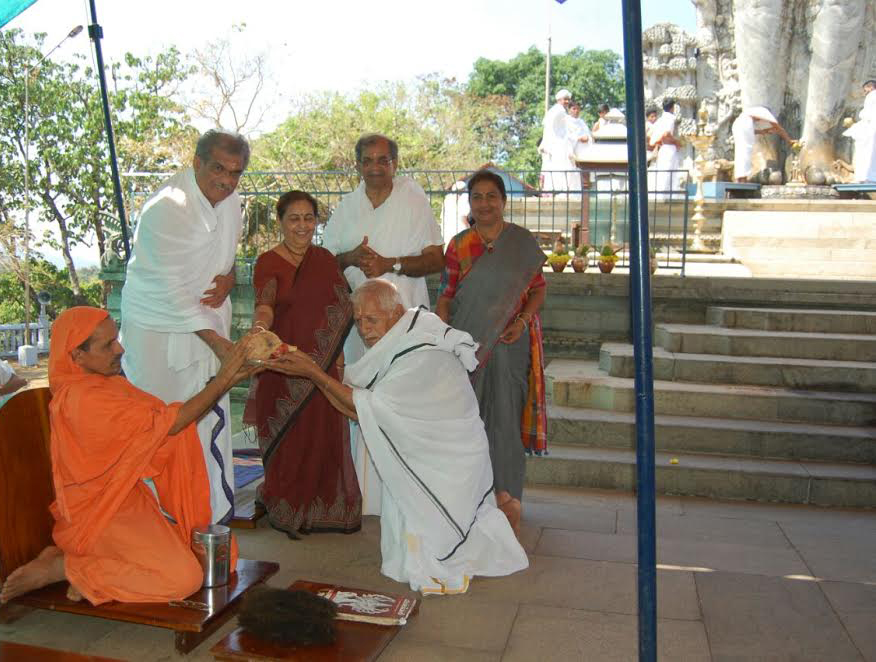 Dharmasthala (Dakshina Kannada District), February 3, 2017: One gets spiritual bliss and peace of mind by worshipping God, said Swami Lalitakirti Bhattaraka of Karkala mutt.
Swami Lalitakirti was delivering religious discourse on the occasion of anointing the feet of Bhagawan Bahubali at Sri Kshetra Dharmasthala, here on Friday, February 3.
The teachings of Bhagawan Bahubali that is non-violence and sacrifice are ever relevant. One gets spiritual bliss and total wellbeing by worship, added Swami.
Kshullaka Nirwan Sagar Swami said, 'If one prays with full devotion; his/her life would be worth lived.'
Siddakatte Chandranath Indra, the recipient of Mahakavi Ratnakaravarni Award, conferred by Dakshina Kannada Jain Milan, Bengaluru was felicitated during the programme.
The anointing of monolithic Bhagawan Bhahubali's feet with 216 vessels of mixture of milk, mustard, sandalwood powder, kumkum etc was held after the ceremonious procession.
Sri Kshetra Dharmadhikari D Veerendra Heggade and Hemavati couple, D Harshendra and Supriya couple, D Rajendra Kumar and family performed the anointment. – News & Image Courtesy: Bellvision.com