Mangalore (Karnataka), 30th October 2022: Postal Cards on Jain Personalities have been released by the Mangalore Postal Circle, Department of Posts, Government of India. The postcards were released on the occasion of Kannada Rajyotsava at a function held at Mangaluru.
All the post cards have been sponsored by Hombuja Jain Math with the blessings and guidance of His Holiness SwastiSri Dr.DeveendraKeerthi Bhattarakha SWamiji of Hombuja Jain Math.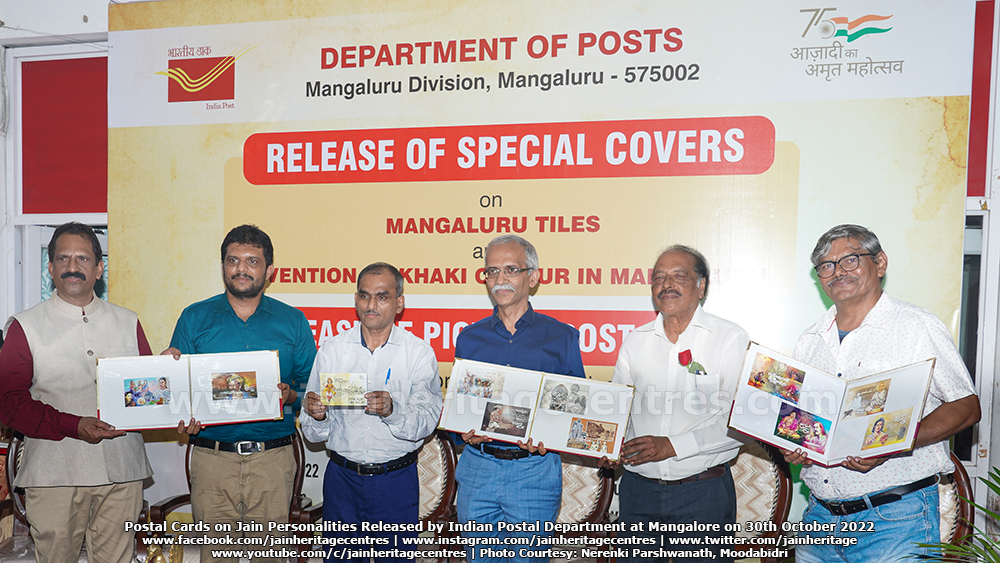 The ten Jain Personalities postcards have been provided with unique QR codes. Scanning these postcards will take the people to dedicated webpages with the profile of each personality on www.jainheritagecentres.com in English. These individual English profile pages have been linked to their Kannada translations from the respective webpages.
The Jain personalities featured include – Pampa, Ponna, Ranna, Janna, Chavundaraya, Ratnakaravarni, Danachintamani Attimabbe, Natyarani Shantala, The Pepper queen Chennabhyradevi, Abbakka Rani Chowta.
Team Work – The entire project is a result of a team work. His Holiness SwastiSri Dr. Devendra Keerthi Bhattarakha Swamiji has blessed the initiative by sponsoring the entire cost of this project. The project execution was led by Educationist & Jain philately enthusiast Sri Mahavir Kundur, Hubli; Kannada articles on these personalities have been written by Prof. Ajith Prasad, Retired Vice Principal, Moodabidri; English articles have be written and webpages have been designed & hosted by Nitin H P, founder & Executive Director of WWW.JAINHERITAGECENTRES.COM and Associate Director, MarTech, Wipro Limited. Scholar Sri Muniraja Renjala; artist Suresh Arkasali, Hubli; artist, Swathi Graphics, Hubli; Vishwakala Printers, Bengaluru; artist Chitta Jinendra, Bengaluru have also contributed to this project.
All members of the Mangaluru Postal Circles have contributed immensly towards the success of this project.
Jain Heritage Centres News Service, Mangalore function photos courtesy: Nerenki Parshwanath