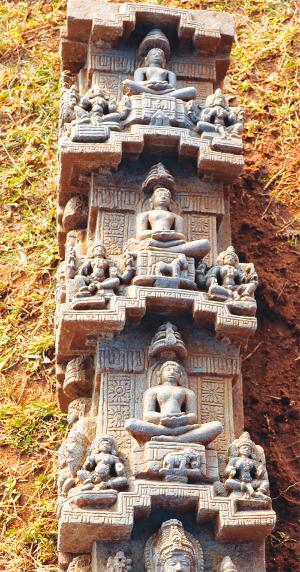 Aratipura (Mandya District, Karnataka), November 1, 2015: In an ongoing scientific clearance (exposing remnants with historical significance) at the Archeological Survey of India (ASI) protected site near Mandya, an inscription dating back to the 10th-12th centuries AD and tracing its roots to the Hoysala regime has been found, which will be a clincher for researchers of Jainism. The inscription talks about the then ruler giving a village in donation to promote Jainism in the area.
The inscription, which was found two days ago, has been preliminarily deciphered by epigraphists from Mysuru and will give a lot of fodder for researchers who are trying to establish that this village which was originally called Tippur is older than Sharavanabelagola, a holy centre for Jains. Tippur was earlier ruled by the Gangas between 800 AD and 1000 AD and subsequently by the Hoysalas.
Now called Arattipura, the village has a 250-acre protected site coming under Bangalore Circle of ASI, with remnants of Jainism. It has two small hillocks – Shravana betta and Chikka betta – on which is a small pond and on the site lays scattered loose sculptures. Last year, when a small area of the hillock was exposed, the ASI team found the base of a temple consisting of garbhagriha, arthamantapa, pillared mantapa, yaksha, yakshi and headless tirthankaras.
The exercise continued and on October 5, the team exposed another set — five temple complexes with two phases of constructions of brick and stones. According to superintending archeologist, ASI Bangalore circle, Arun Raj T, the basement of the brick temples were plastered with lime and various shapes of lime bricks were used for construction. The stone platforms were topped with sockets for installing pillars. Along with other remnants, the first tirthankara — Adinatha was also exposed during the course, which may date back to Hoysala period.
"We have subsequently found some antiques, decorative pillars, terracotta images of men and women, conch bangles and lamps. But what we found on Thursday is an inscription on a stone which is a clincher. Our ASI epigraphists from Mysuru have preliminarily deciphered the inscription which dates back to the Hoysala period between 10th and 12 centuries AD," Arun Raj told.
The 800-year-old two-line inscription, in halegannada (old Kannada literature), running up to two metres in length, is akin to a plaque. It says: "It is a donation of a village for the construction of Jain basadis." According to Arun Raj, a former ASI director's research into the subject points at Arattipura's development being older than Shravanabelagola, which also has two hillocks (Chandragiri and Vindhyagiri) and a pond. "All the scientific clearances are done on the hilltop and there are clear indications that Arattipura is geographically older than Shravanabelagola. And incidentally, the exposed structures at Chikka betta here resemble the similar structures exposed at Chandragiri hill in Shravanabelagola," added Arun Raj whose team included P Aravazhi, R N Kumaran, Rajanna, Basavaraj, Govindappa and Mulji Valji. – Image & News Courtesy Bangalore Mirror