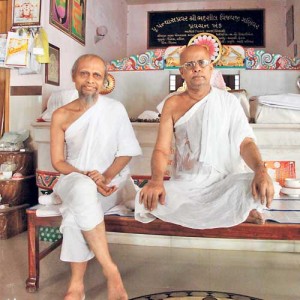 Gunshil Surishwarji Maharaj & Kulshil Surishwarji Maharaj
Ahmedabad (Gujarat), June 9, 2013: A Jain family has completed 50 years of taking diksha or adopting the life of a saint, a tradition followed by many members of the community. And, to mark the achievement, a huge celebration will be held in the city beginning June 16.
The grand celebration, spread over eight days and organised by Jains in the city, will consist of Snaatra Mahotsav, Kumbh sthapana and a grand rath yatra.
Settled in Kolkata, Dhanjibhai Shah had everything in life that one could safely describe as being successful. He had an established business, wife and three children. But, he renounced all these to become a Jain Maharaj.
Recalling how the entire family took diksha, the elder son of Dhanjibhai, Gulabchand Shah, now known as Gunshil Surishwarji Maharaj, said: "In 1953, when Vijay Ramchandra Surishwarji Maharaj had come to Kolkata for a religious discourse, my father attended it and was inspired by that to go deep into Jain philosophy."
For 10 years, the family which was inspired by Jain ideology kept attending religious discourses to come close to leading a simple life. However, it was only in 1963 that the businessman decided to take diksha and the entire family followed.
"I was a 14-year-old when I started taking training to become Jain Maharaj and finally I became one after five years," reminisced Gunshil Surishwarji Maharaj.
The younger son, Kulshil Surishwarji Maharaj (earlier Kishorchand Shah), recalled how they were given diksha at Hutheesing ni Waadi on June 1, 1963. "We were the first family of Ahmedabad that took diksha those days, while many have opted for that path today. I was just 12 when I took diksha," he stated.
So, was it difficult to leave behind his life of a teenager and materialism? "Not at all. At a young age, developing and imbibing culture is quite easy. In an era, when there was no television and not much of entertainment, I really did not miss out much when I took diksha," asserted Kulshil Surishwarji Maharaj.
Echoing the same, youngest sister (Indiraben), who is now sadhvi Indurekha Shriji, smiled and said: "I was just nine when I took diksha and I feel that there are more hardships in materialistic life like managing one's ambition, goals, career, anger, frustration, relations, etc. Against this, we live a simple life reading Jain philosophy, which is a step towards relieving our karma."
Talking about following the path laid down by husband Dhanjibhai Shah, Navalben, now known as sadhvi Nirmama Shriji, said: "I followed every step my husband took. When my husband announced to renounce the world, what would have I done without him in this materialistic life? I have a daughter who stays and takes care of me and travels with me to different cities."
To mark the golden jubilee of taking diksha, the Amdavadi Jains have organised an eight-day-grand celebration with Snaatra mahotsav, Kumbh sthapana and grand rath yatra that would culminate on June 23. – News Courtesy: DNA India